Healthcare consists not only of Pharmaceuticals subsector, but also of medical and dental instruments that are offered by conglomerate 3M Company. Any witty investor aims at diversified portfolio, so why not invest in a company that possesses strong diversified business?
Technical analysis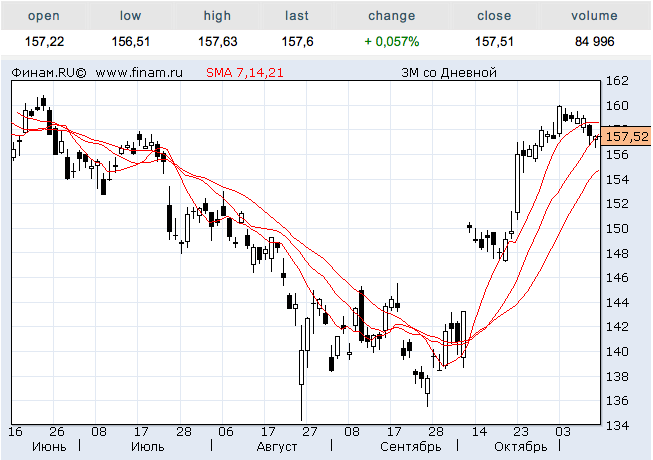 From the end of September 3M Company's share price shows an obvious increase, technical analysis demonstrates a rising trend. Moreover, according to SMA (3-line) technical indicator the share price moves above its moving average, investors are typically "bullish" and are to create long positions.
Recent News
06.11.15 – 3M today announced that it has completed the sale of assets for the majority of its remaining global Library Systems business outside of North America to a fund advised by One Equity Partners Capital Advisors L.P. (OEP).
3M Compony has received a capital from such a sale that could be invested in profitable projects and expansion of business in the nearest future.
09.11.15 – Post-it Brand from 3M, a product leader in enhancing collaboration and creativity has partnered with Fast Company to bring Post-it Dry Erase Surface, Post-it Big Pads and their full line of collaboration products to the first-ever Fast Company Innovation Festival.
Partnerships always give positive opportunities, and festival attracts new customer base and buyers.
Expected impacts on performance indicators.
http://news.3m.com/press_releases
Performance
Earnings: MMM beat on earnings. Their consensus called for EPS of $2.01, and the company reported EPS of $2.05.
Key Stats to Note: 3M continues to take actions to strengthen its portfolio, increase its scientific edge through research and development and transform its business processes through a new global ERP system.
Third-Quarter Results:
3M announced a restructuring plan that will result in an expected reduction of 1,500 positions globally with estimated pre-tax savings of $130 million in 2016.
Operating income margins of 24.3 percent, up 0.9 percentage points year-on-year.
Organic local-currency sales growth of 1.2 percent, positive across all geographic areas.
Performance indicators have rised that will have an impact on share prices in a long-range perspective.