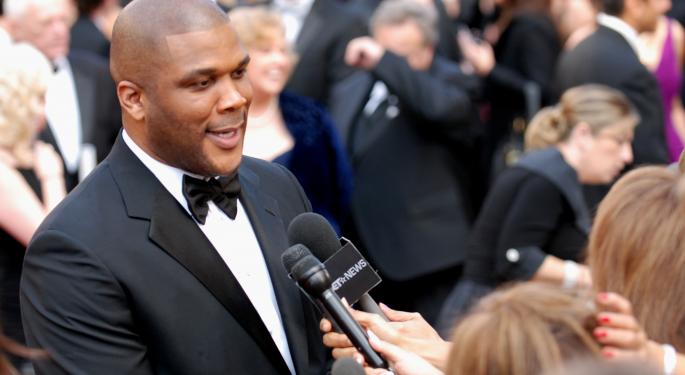 Lions Gate Entertainment Corp. (USA)'s LGF "Boo! A Madea Halloween" flick edged out several notable films with A-list stars.
The ninth version of the Madea franchise remained the No. 1 film for the second straight week and collected around $16.7 million this past weekend. Tom Hanks' third installment of the "Da Vinci Code" franchise titled "Inferno" bombed as it collected $15 million in ticket sales, which is around half of what was expected.
Related Link: Investing In The Movies
"Inferno" is, however, performing well in the international market and has earned nearly $150 million.
Tyler Perry's "Madea" flick has now taken in $52 million in 10 days, which marks his biggest success since 2009's "Madea Goes to Jail." The film franchise could represent a new cash cow for Lionsgate following the conclusion of the "Hunger Games" franchise.
Perry's Madea franchise has been a pretty proftibale one for more than a decade. Here is a compilation of box office opening weekend performance of Perry's other Madea films:
Diary of a Mad Black Woman (2005) - $21.91 million.
Madea's Family Reunion (2006) - $30.03 million
Meet the Browns (2008) - $20.08 million.
Madea Goes to Jail (2009) - $41.03 million.
I Can Do Bad All by Myself (2009) - $23.45 million.
Madea's Big Happy Family (2011) - $25.07 million.
Madea's Witness Protection (2012) - $25.39 million.
A Madea Christmas (2013) - $16.0 million.
Boo! A Madea Halloween' (2016) - $28.5 million.
By Sgt. Michael Connors - 302nd Mobile Public Affairs Detachment [Public domain], via Wikimedia Commons
© 2016 Benzinga.com. Benzinga does not provide investment advice. All rights reserved.