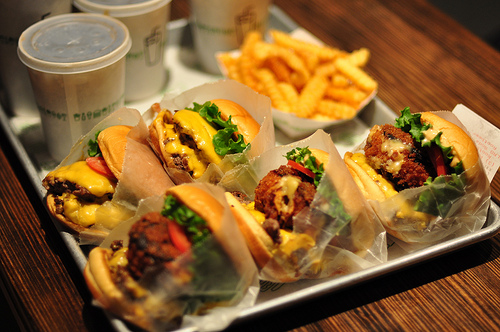 Image Credit: Flickr
What started as a literal shack in Madison Square Park only a few years ago has exploded into a globally recognized brand, leaving customers lining up for a burger, fries but most importantly, a delicious shake.
Shake Shack (NYSE: SHAK) stepped up to the stock market plate in late January, priced at $21 per share. The trading value of the company is currently valued at more than $1 billion.
Which begs the question, what is Shake Shack doing right?
Surprisingly, the answer may fit into your pocket.
Brands like Shake Shack and Chipotle resonate with millennials in part because of sustainable efforts toward facility design, ethical food sourcing or donating to community efforts, according to Shake Shack's website. However, they also delve deep into ever-updating realm of social media, often on more visual platforms like Instagram and Snapchat, which millennials are checking not once, but multiple times per day.
Analysts at Goldman Sachs explained the company [Shake Shack] has a "unique resonance with millennials," according to a recent article by Entrepreneur.
"With many millennials checking into these key forms of communication many times per day, a brand that wants to engage millennials has to be taking an active role in the social conversation," Principal and Founder of HypeLife Brands Curt Cuscino said. "That conversation occurs nearly 24-7, requiring dedicated resources, whether it be employees or an actively involved, progressive agency, to lead the charge. This is no longer a fringe option to be pontificated in boardrooms. It is an absolutely mandatory piece of the digital marketing mix for brands that want to engage Millennials for the long haul."
The impact of these "fast-casual" restaurants influence more than just the number of double taps an Instagram picture gets. Entrepreneur found these social media strategies might influence the economy on a huge scale, stirring up the stock market.
Shake Shack has 155,000 followers on Instagram. This seems like nothing compared to McDonald's 491,000. However, the measure of followers by system sale, according to Entrepreneur, is where Shake Shack shines.
McDonald's (NYSE: MCD) has a much larger number of locations than Shake Shack, comparing 36,000 Mickey D's burger joints to the Shack's 63. However, McDonald's boasts 11 followers per system sale, while Shake Shack holds a staggering 1,808.
"With Shake Shack, we not only see relevant messages being sent through every post, but we see them doing it consistently, multiple times nearly every single day," Cuscino said. "Whereas with McDonald's there's a total lack consistency in posting with strange, multiple week+ long gaps in activity. A sure-fire way to lose Millennials is to not show up to the conversation in the first place. In addition to that, the message being sent when a post does happen simply doesn't contain a consistent message."