The FDA's decision on Collegium Pharmaceutical's Xtampza could have big implications for the pain space. The decision was supposed to be made on October 12, but was since postponed.
The postponement could be procedural, but it could also have to do with potential overdose issues.
If it is only procedural, Xtampza will be approved and shares are a bargain. If it has to do with potential overdose, it may not be approved.
A rejection could be negative for all companies in the abuse deterrent opioid space, but could also just be an indictment of DETERx abuse-deterrence technology.
If the problem is only DETERx, other companies will have the opportunity at a bigger market share if they get approval.
Last month, we learned that both the Anesthetic and Analgesic Drug Products Advisory Committee and Drug Safety and Risk Management Advisory Committee at the Food and Drug Administration had voted to recommend that Xtampza ER be approved. Xtampza is the lead candidate of Massachusetts-based biotech Collegium Pharmaceutical, Inc. (NASDAQ:COLL). Shares did jump on the news, though they have since backed off since topping at $24.88, now at $19.27 a share.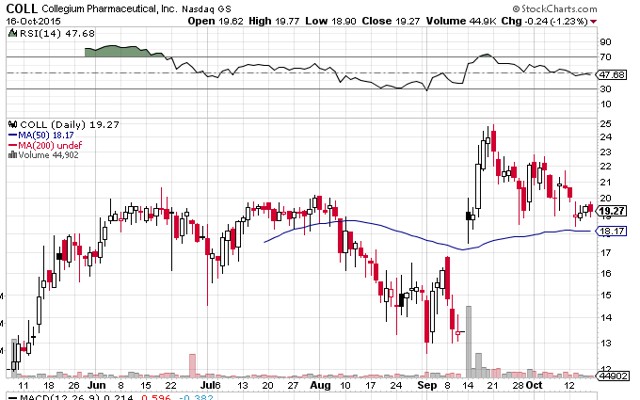 Part of the fall is last week's postponement of FDA review, which was supposed to take place on October 12 but is now unknown. Considering the market potential for the drug if it is approved, a market cap of $400M for Collegium is still low, so the postponement is perhaps the last opportunity to get in to Collegium at current prices.
In my last article on the pain space, I highlighted 4 companies. The fate of Xtampza could have a large impact on all 4 of them. If it is approved, it will be a short term positive. If rejected, it will be a short term negative. Longer term, it depends on the reason for rejection and whether the other companies abuse-deterrence technologies are similar to Collegium's or not. This I will get into shortly.
Xtampza
Xtampza is effectively oxycodone, but designed to be administered in a different way. There are a number of problems associated with oxycodone in its current delivery form, and Collegium believes delivery through its proprietary method improves upon and solves the problems associated with the current method.
When it comes to oxycodone delivery, there are two...
More