It has been about a month since the last earnings report for Box, Inc. BOX. Shares have lost about 3.8% in that time frame, underperforming the market.
Will the recent negative trend continue leading up to the stock's next earnings release, or is it due for a breakout? Before we dive into how investors and analysts have reacted as of late, let's take a quick look at the most recent earnings report in order to get a better handle on the important drivers.
Box Q3 Loss In Line With Expectations, Revenues Beat
Box's fiscal third-quarter 2018 adjusted loss was 13 cents per share, in line with the Zacks Consensus Estimate. Loss was 18.2% wider on a sequential basis but 7.7% narrower than the year-ago quarter. The reported loss was toward the lower end of the guided range.
Revenues came in at $129.3 million, surpassing the consensus mark of $128.6 million. Revenues surpassed the guided range, increasing 5.2% sequentially and 25.8% year over year.
Billings and Deferred Revenues
Billings were $141.5 million, up 25.8% year over year. Deferred revenues were $253 million, up 31.4% year over year.
Margins and Net Income
Non-GAAP gross margin was 73.3%, down 29 basis points (bps) year over year. Box's operating expenses (general and administrative, sales and marketing, research and development) of $137.4 million increased 21.1% year over year. As a percentage of sales, all expenses decreased. Non-GAAP net loss was $17.4 million compared with $17.8 million in the year-ago quarter. On a GAAP basis, the company recorded net loss of $42.9 million or loss of 32 cents per share compared with net loss of $38.2 million or loss of 30 cents per share a year ago.
Balance Sheet and Cash Flow
As of Oct 31, 2017, cash and cash equivalents, and accounts receivables balance were $172.9 million and $95.9 million, respectively compared with $165.3 million and $107.9 million as of Jul 31, 2017. Long-term debt was $40 million, flat with the previous quarter. During the quarter, cash provided by operations was $14.1 million and capital expenditure was $3 million.
Outlook
For the fourth quarter of fiscal 2018, Box expects revenues between $136 million and $137 million. The Zacks Consensus Estimate is pegged at $136.65 million. On a non-GAAP basis, the company projects loss per share in the range of 7 cents to 8 cents.The Zacks Consensus Estimate is pegged at a loss of 8 cents per share. GAAP loss per share is expected in the range of 26 cents to 27 cents per share.
How Have Estimates Been Moving Since Then?
Analysts were quiet during the past month as none of them issued any earnings estimate revisions.
Box, Inc. Price and Consensus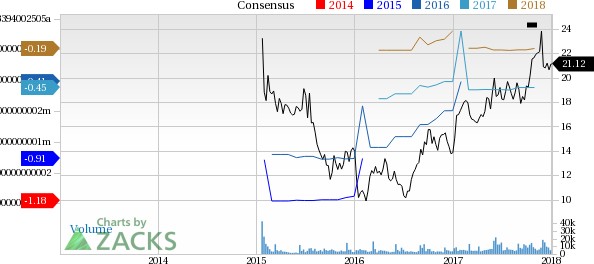 VGM Scores
At this time, the stock has a nice Growth Score of B, though it is lagging a lot on the momentum front with an F. Following the exact same course, the stock was allocated also a grade of F on the value side, putting it in the fifth quintile for this investment strategy.
Overall, the stock has an aggregate VGM Score of D. If you aren't focused on one strategy, this score is the one you should be interested in.
The company's stock is suitable solely for growth based on our styles scores.
Outlook
The stock has a Zacks Rank #3 (Hold). We are expecting an inline return from the stock in the next few months.
Want the latest recommendations from Zacks Investment Research? Today, you can download 7 Best Stocks for the Next 30 Days.
Click to get this free report
Box, Inc. (BOX): Free Stock Analysis Report
To read this article on Zacks.com click here.
Zacks Investment Research