The new Watergate?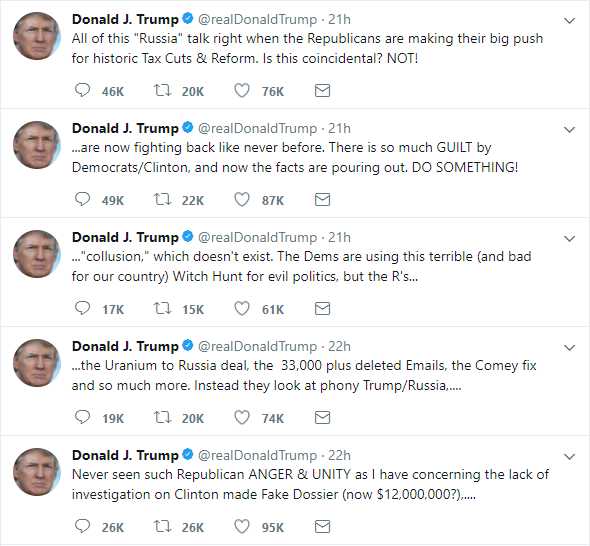 After almost a year of interviews and investigations, the first indictments are coming for Team Trump and the markets, so far, are very complacent about it. Of course we don't know who is being indicted or where it will lead but, having gone through Watergate when I was young, this is following a very familar path. So much so that our President is putting out angry 5-part (a new record!) tweets seeking to shift the focus to his usual punching bag – Hillary…
I find it interesting that very few people forwarded or commented on his middle tweet but interest picked back up on tweets 4 & 5. It seems very odd to me that 33% of the people who didn't retweet part 3 would then retweet part 4. Maybe it's the use of all caps that gets people excited about a tweet? We report, you decide whether or not Trump's account is tweeted by Russian Robots.
Actually, that's one of the things Robert Mueller will be deciding on that. Apparently, the anwser isn't no involvement as members of Trump's team are going to be ARRESTED (tweet that) and that's a bit awkward because, as Trump himself has said, regarding Hillary's FBI investigation, "We must not let her take her criminal scheme into the Oval Office" while PRAISING the FBI and DOJ for having "the courage" to pursue the truth. He also said:
Trump lied about Doug Schoen, by the way. Schoen worked for Hillary in 2008, not 2016, he had flipped Republican in 2010 after he was hired as a Fox News analyst and even wrote a book with Republican hit-pollster, Scott Rasmusen about the Tea Party movement. Trump was right though, about a protracted legal battle that ties up the Oval office being a disaster for our country. Hopefully he'll take his own advice and step down…
The special counsel, meanwhile, has taken up several strands of inquiry, including into the business affairs of Trump's former campaign chairman Paul Manafort, claims that members of the President's campaign team, like former national security adviser Michael Flynn, transgressed in their alleged contacts with Russian officials and whether the President's…
Provided courtesy of Phil's Stock World.