Lately it seems that not a day goes by without some big or not so big fund manager realizing they have had it with Bernanke/Yellen's legacy farce of a market, and exiting stage left, doing so either in bombastic style, a la Bill Gross, or in a more subdued fashion, in the vein of Stanley Druckenmiller, or sometimes in part (or in whole) liquidating without telling anyone, like what BlueCrest is rumored to have done last week.
So not surprisingly, today brings the latest hedge fund unwind, with the WSJ reporting that $6 billion veteran acitivst hedge fund Relational Investors LLC, plans to wind down its operations and dissolve its current funds by the end of next year, according to people familiar with the matter. The reason? The same reason why Jamie Dimon himseld is about to quit the financial industry any second: the firm's co-founder and public face, Ralph Whitworth, has throat cancer and while he said he was taking a leave of absence in July, he appears to have changed his mind and made it permanent.
From the WSJ:
Plans remain fluid and the ultimate status of funds and positions in them will be sorted out over the next year or so, the people said.

 

The firm's executives expect eventually to launch a new fund with the same name, though founders Mr. Whitworth and David Batchelder will cede day-to-day control, the people said.

 

Shortly thereafter, Relational said no new investments would be made, citing Mr. Whitworth's indefinite medical leave. The firm said it would continue to manage the current portfolio with Mr. Batchelder at the helm.
But the question on everyone's mind is what happens tomorrow, and thus today, as everyone discounts the upcoming liquidations of the fund's largest positions, which are Hewlett Packard, SPX and Mondelez, and where Relational is a 10% holder in GBNK, MHR, SPW and PMCS.
So here is a partial list of everyone else that is about to be dumped en masse as Relational is merely the latest fund to liquidate.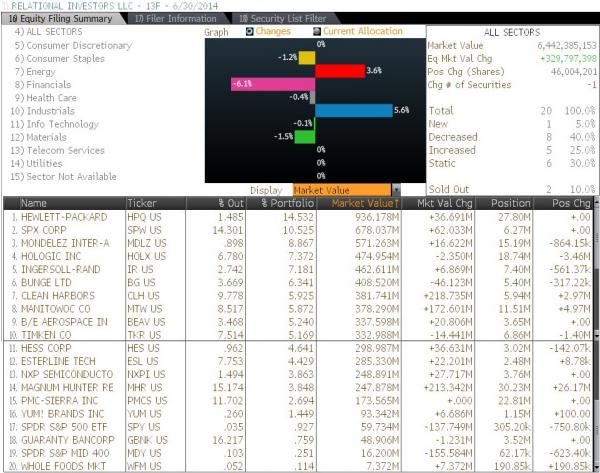 It won't be the last, and in this CYNK&P market, in which one seller is all it takes to start an avalanche, the Fed better be taking notes.
Source: BBG