December 2017 Oil: Interesting time/price target spotted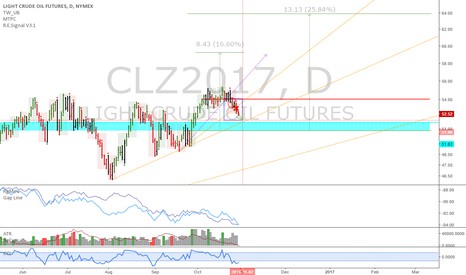 I'm looking to go long the December 2017 contract if we hit the target specified on chart. I'm not detailing the money management or the trade plan here, I reserve that to my clients, but we could certainly see a bounce very soon, but we need a flush of weak longs to achieve sufficient negative sentiment for a bottom.

I was expecting a faster rally, but that thesis changed when we dropped under the short term uptrend speed line, creating a failure in the daily uptrend, which prompts me to think price will go down until we hit the target on chart, then reversing course and resuming the long term uptrend, eventually reaching the targets on chart.
Keep an eye on this chart, you will soon get a low risk long opportunity if you're vigilant.

Good luck!

Ivan Labrie.