A fellow blogger noted that Skyworks Solutions (SWKS) is planning a $400 million stock buy-back: 

Skyworks to buy back $400 million in stock.

This would bode well for a bullish outlook. Let's take a look at the technical picture. 

SWKS Weekly Chart 11/11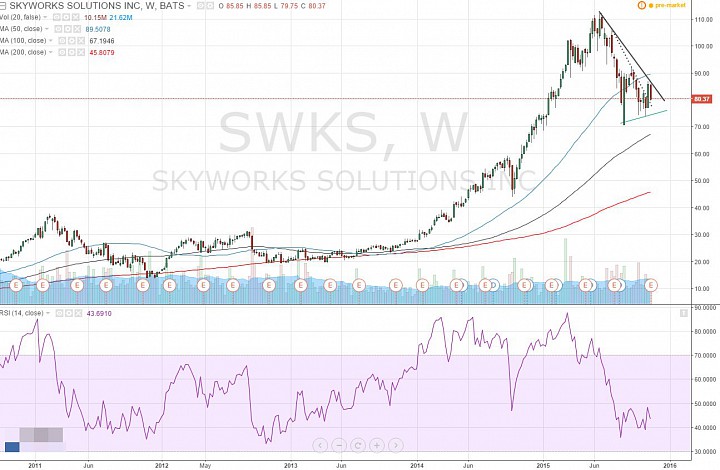 (click to enlarge)

After a few years of sideways action, SWKS started to take off in late 2014, and accelerated into 2015. After tagging 112, it fell sharply. So far, this dip to almost 70, can still be seen as a correction. The prevailing uptrend is still intact for the most part. 

We can also make the observation that since the dip to almost 70, there has been a couple of strong bullish weeks keeping the bearish outlook at bay. 

The bullish outlook has at least the 100 psychological level in sight, with the 112 high also in play. There are signs that the current bearish outlook is going to be held above 70, but below that, a run to 60 can be expected before possible support. We have to consider this bearish outlook because price action in the short-term has not turned bullish yet. 

SWKS 4H Chart 11/11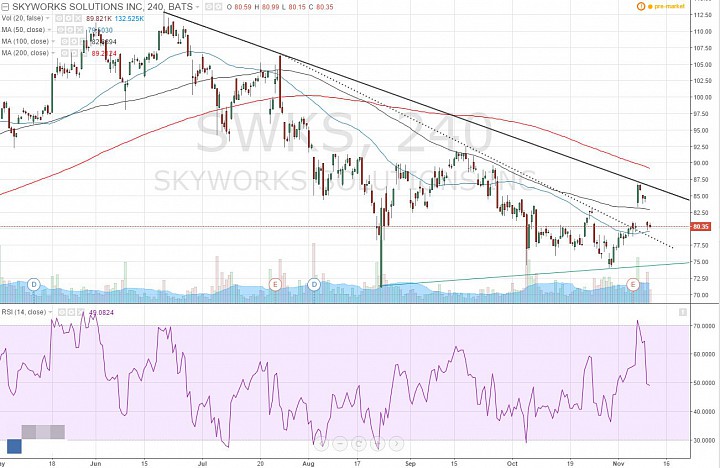 (click to enlarge)

The reason I say price action has not turned bullish is because this week's rally retreated after being challenged by a falling trendline. However, we do see some signs building up for the bullish case. 
1) Price has broken a steeper trendline resistance.
2) The RSI has pushed above 70, which shows initiation of bullish momentum. 

Also note that price has broken above the 50-period simple moving average and is now testing it as support around 80. If price can hold above 80 this week, I would have more confidence of the bullish outlook. A break above 87.50 would be a critical confirmation for this bullish outlook, which first has 92.50 as a target before opening up to 100.