Alphabet Inc.'s GOOGL Google recently partnered Nutanix NTNX for hybrid cloud computing.
Nutanix provides an enterprise cloud platform, which converges silos of server, virtualization and storage into an integrated solution and connects to public cloud services.
While the news didn't move the needle much for Alphabet, Nutanix had much to cheer about. Alphabet's shares were up 1.4% yesterday to close at $12.92 whereas that of Nutanix gained 9.2% to close at $2.36.
Growing Focus on Hybrid Cloud Environment
The strategic alliance is aimed at merging Google Cloud Platform (GCP) with the Nutanix environment to offer customers a unified public cloud service. Using this hybrid system, customers will be able to deploy and manage applications across GCP as well as on-premise Nutanix deployments.
The companies have also collaborated on Internet of Things (IoT) use-cases to integrate core cloud computing with real-time edge intelligence. The integration enables customers to use TensoFlow for edge processing, train machine learning models and run analytics on the processed metadata in GCP.
Integration of Nutanix hardware and Google cloud software will begin in the first quarter of 2018.
Google Vying for an Edge in Cloud
Though the partnership will benefit both, the scales seem to tilt slightly in favor of Google. It could drum up more business in cloud computing and boost its core business.
Alphabet Inc. Revenue (TTM)
Amazon AMZN and Microsoft MSFT are two of Google's fiercest competitors in the cloud computing space and both are focused more on public cloud. It appears that Google is trying to gain an edge by shifting focus to hybrid cloud.
Notably, Nutanix already has partnerships with Amazon and Dell EMC. Google appears to be wasting no time in gaining an early mover advantage with hybrid cloud.
An early breakthrough in the space will be encouraging news for investors and will boost Alphabet's share price that has gained 38.2% in the last one year compared with the Zacks Internet - Services industry's gain of 36.6%.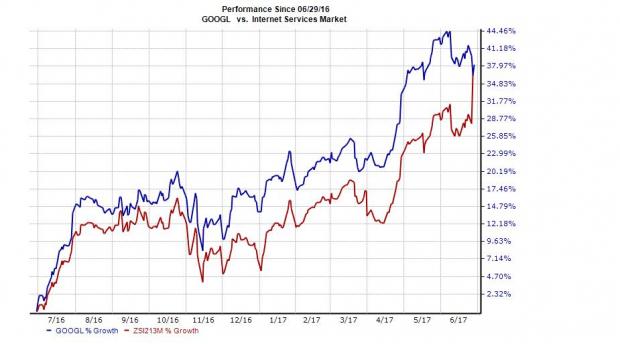 Nutanix Needs a Turnaround
Nutanix had a blockbuster debut on the bourses in September last year. It started almost 66% higher and closed at double the offer price on the first day of trading. However, the stock has lost nearly half of its value since then due to the company's reduced guidance early this year and increasing competition in the enterprise cloud space.
Nutanix, however, has recently shown signs of a rebound with better-than-expected third quarter fiscal 2017 results. While reported loss of 77 cents per share (including stock-based compensation) was narrower than the Zacks Consensus Estimate, revenues exceeded the same.
Revenues surged 67.2% year over year. The company added 790 new customers during the quarter bringing total end-customer count to 6,170.
Nutranix to date has demonstrated extraordinary success in inking partnerships and license agreements with established players like Cisco, Hewlett Packard, Amazon and International Business Machines. The alliance with Google could further boost growth going forward.
To Conclude
Hybrid cloud computing is increasingly gaining significance because of its ability to manage applications without sacrificing security and scalability. Security is more of a concern with public cloud.
Perhaps, Nutanix's specialty in hyper-converged technology was one of the key factors that attracted Alphabet's interest. This technology facilitates connections between public cloud providers and private infrastructure.
Zacks Rank
Alphabet carries a Zacks Rank 3 (Hold). You can see the complete list of today's Zacks #1 Rank (Strong Buy) stocks here.
Today's Stocks from Zacks' Hottest Strategies
It's hard to believe, even for us at Zacks. But while the market gained +18.8% from 2016 - Q1 2017, our top stock-picking screens have returned +157.0%, +128.0%, +97.8%, +94.7%, and +90.2% respectively.
And this outperformance has not just been a recent phenomenon. Over the years it has been remarkably consistent. From 2000 - Q1 2017, the composite yearly average gain for these strategies has beaten the market more than 11X over. Maybe even more remarkable is the fact that we're willing to share their latest stocks with you without cost or obligation. See Them Free>>
Want the latest recommendations from Zacks Investment Research? Today, you can download 7 Best Stocks for the Next 30 Days.
Click to get this free report
Amazon.com, Inc. (AMZN): Free Stock Analysis Report
Alphabet Inc. (GOOGL): Free Stock Analysis Report
Nutanix Inc. (NTNX): Free Stock Analysis Report
Microsoft Corporation (MSFT): Free Stock Analysis Report
To read this article on Zacks.com click here.
Zacks Investment Research