EMR reported Q3 earnings recently and things are looking tough.
EMR continues to cede revenue from lower orders and dollar strength.
I think analysts are too optimistic so the stock is expensive, but the dividend is nearly 4% at this point.
Long time dividend favorite Emerson Electric (NYSE:EMR) has been absolutely pummeled in the past two years. The stock has fallen from the mid-$60s to the high $40s with several futile rally attempts thrown in as oil and gas prices have crushed revenue. The stock has taken a nosedive since early June as the company's fundamentals have continued to deteriorate but at this point, it looks like capitulation selling may have taken place. In light of the high yield and the value the stock appears to offer at these levels, I'll take a look at EMR to see if it belongs in your dividend portfolio.
(click to enlarge)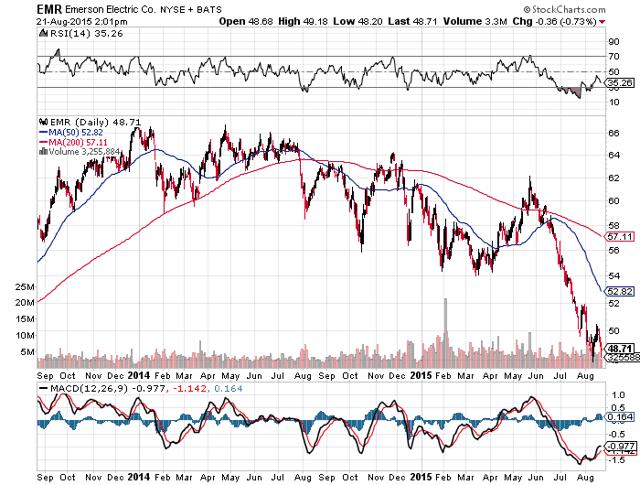 To do this I'll use a DCF-type model you can read more about here. The model uses several inputs including earnings estimates, which I've borrowed from Yahoo!, dividends, which I've set to a flat $1.88, and a discount rate, which I've set at the 5 year Treasury rate plus a risk premium of 7%.
2015

2016

2017

2018

2019

2020

Earnings Forecast

Prior Year earnings per share

$3.75

$3.24

$3.36

$3.52

$3.68

$3.85

x(1+Forecasted earnings growth)

-13.60%

3.70%

4.64%

4.64%

4.64%

4.64%

=Forecasted earnings per share

$3.24

$3.36

$3.52

$3.68

$3.85

$4.03

Equity Book Value Forecasts

Equity book value at beginning of year

$15.53

$16.89

$18.37

$20.01

$21.80

$23.77

Earnings per share

$3.24

$3.36

$3.52

$3.68

$3.85

$4.03

-Dividends per share

$1.88

$1.88

$1.88

$1.88

$1.88

$1.88

=Equity book value at EOY

$15.53

$16.89

$18.37

$20.01

$21.80

$23.77

$25.92

Abnormal earnings

Equity book value at begin of year

$15.53

$16.89

$18.37

$20.01

$21.80

$23.77

x Equity cost of capital

8.50%

8.50%

8.50%

8.50%

8.50%

8.50%

8.50%

=Normal earnings

$1.32

$1.44

$1.56

$1.70

$1.85

$2.02

Forecasted EPS

$3.24

$3.36

$3.52

$3.68

$3.85

$4.03

-Normal earnings

$1.32

$1.44

$1.56

$1.70

$1.85

$2.02

=Abnormal earnings

$1.92

$1.92

$1.95

$1.98

$2.00

$2.01

Valuation

Future abnormal earnings

$1.92

$1.92

$1.95

$1.98

$2.00

$2.01

x discount factor(0.085)

0.922

0.849

0.783

0.722

0.665

0.613

=Abnormal earnings disc to present

$1.77

$1.63

$1.53

$1.43

$1.33

$1.23

Abnormal earnings in year +6

$2.01

Assumed long-term growth rate

3.00%

Value of terminal year

$36.50

Estimated share price

Sum of discounted AE over horizon

$7.69

+PV of terminal year AE

$22.37

=PV of all AE

$30.06

+Current equity book value

$15.53

=Estimated current share price

$45.59
We can see the model is saying EMR is near its fair value and that after the beating the stock has taken, it may finally be time to buy. Let's take a look at the fundamentals to see what they can tell us.
The first thing I'll address is EMR's dividend because I suspect that is the reason virtually every current owner bought the stock. EMR has a long history of dividends and it's nearly 4% yield puts it in the upper echelon of large cap dividend stock yields. Astute readers will notice I set the dividend to stay steady throughout the years the model covers and that was on purpose; given the extremely uncertain environment EMR is currently operating in I am not entirely convinced it can keep its current payout. I'm not suggesting that EMR is going to cut its dividend but given what has transpired this year, I don't think it's reasonable to expect a raise either.
Sometimes management teams will eschew other expenditures to keep a streak alive (like raising the dividend) even though it may not be the best idea and we may see that with EMR. But given these facts I think the best idea - the one that lends itself to conservatism - is to expect the payout to stay flat for a while. EMR produced $912 million in FCF during the first three quarters of this year but paid out $960 million in dividends. That's not a good combination and while EMR has other sources of cash, this is - by definition - unsustainable. Part of the reason operating cash flow is down is due to divestitures but the point stands. The cash has to come from somewhere so if EMR is going to continue to pay its dividend it needs FCF to pick back up or borrow the money.
That doesn't mean you shouldn't buy the stock, however, because EMR's dividend situation isn't in dire straits; it is just showing some troubling signs. In fact, that is much the same shape the business is in at this point following Q3 results. Total revenue fell 13% although only 5% of the drop was due to underlying sales falling. Divestitures (3%) and forex (5%) made up the remainder of the loss. However, while I'll ignore divestiture losses the forex changes are very real and cost EMR real money. They cannot and should not be written off and thus, the 10% drop in revenue recorded is troubling.
In addition to that EMR said that underlying order rates have fallen 9% so despite the fact that things have been rough, they seem to be getting worse. EMR is tied to industries that are struggling due to commodity prices and that is making it difficult for EMR to drum up business. The company's customer base is shrinking and so is EMR as a result.
Guidance was anything but inspiring with management's commentary stating that the environment EMR operates in will be tough for at least three or four more quarters. That is certainly not what investors wanted to hear and it is feeding into the waterfall selling we've seen of late.
EMR is doing what you'd expect for a shrinking company; it is busy trying to control costs. Earnings have been hammered since the downturn in commodity prices began and according to management's commentary, we'll continue to see that. But if we look at what analysts are expecting, that's not what is being forecast.
Analyst think sales will fall 9% this year, which is right in line with what management said, and another 2% next year. If EMR continues to see marked weakness like it has in 2015 it has no shot at hitting only a 2% loss in sales. The dollar continues to pound away at results and even if the Fed waits until 2016 to hike rates, the ensuing dollar strength will take an even bigger toll on EMR's results next year. With order rates declining at nearly double digits, where is the growth coming from?
Similarly, analysts are looking for EPS growth for the foreseeable future and I will make the same point there; with the revenue outlook so poor, where is the growth going to come from? I think analysts are thinking EMR's business will bottom more quickly than it actually will (based upon management's commentary) and that means the stock actually looks expensive here.
At 14 times forward earnings EMR may look cheap on the surface but a look at the underlying growth rates that are projected tells a different story. Even if we assume analyst expectations are correct - which I don't - EMR is still quite expensive. With EPS growth expected at a couple hundred basis points and falling every week, 14 times is still expensive. If you factor in what I think will actually happen, which is negative earnings growth for at least 2016, the stock is more like 16 or 17 times forward earnings. That's very steep for a company that is slowly melting.
The dividend is the only saving grace here because the earnings picture is very bleak right now for EMR. The yield is nearly 4% at this point and that's a great payout. I don't think the dividend will be cut anytime soon but raises may be hard to come by. EMR shouldn't resume as a dividend growth story anytime soon but that doesn't mean management won't roll the dice and do it anyway. I'd caution holders that just because the dividend gets raised, it doesn't mean things are improving. Pay attention to FCF because that is where dividend payments come from and right now, EMR's ability to pay its dividend is diminishing.
More