Dow or YM Futures C wave down trade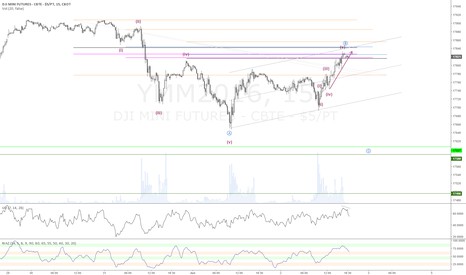 Preceding 1 hour trend is Up. First correction down is a clear 5 wave impulse pattern with momentum signature and volume pattern to match.
The Bulish correction is overlapping, contained and described by a channel.
The first impulse against trend is always an A wave in EW terms. It cannot stand alone in a correction.

On the 3 min0.00%% chart, the rally from today looks to be a complete and balanced 5 wave impulse with an Ending diagonal in the 5 of iii position shown with grey lines. All C waves in 3 wave patterns end in motive 5 wave patterns, which is what we appear to have. With some divergence happening at the end and into 3 levels of ration confluence resistance.

More can be done to find a better support level from the preceding rally data, but the expansion confluence projection down is 607 at the Lime line.

An aggressive Short entry with a substantial break of the purple Arrow ascending trendline and this is a short trade opportunity with a very tight stop at 864, setting up against the wave (v) of B highs and large target. Watch on the 3 min0.00%% chart for better entry.

Follow the trade by confirming motive waves forming in the Bearish direction with bigger stronger Bearish candles down. If not, don't force the analysis, something else is going on.