USD/CAD has been falling sharply since just missing the 1.3150 handle at the start of the Month. To start the week, it has cracked 1.29, but I suspect there might be some buying here that can lead to some consolidation and possibly a push back towards 1.30 in the short-term.

USD/CAD 4H Chart 9/6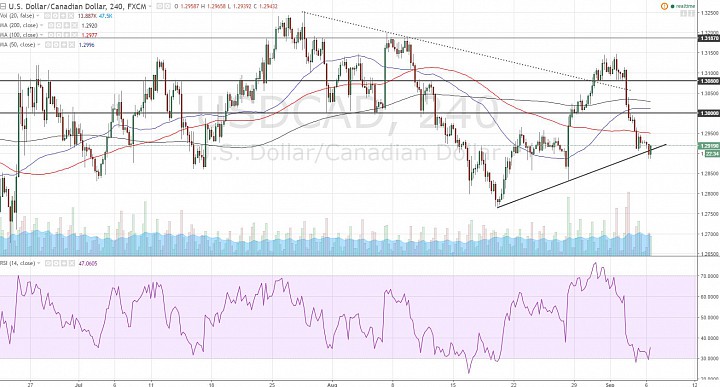 (click to enlarge)

2 Key reasons for support:
- At the psychological level of 1.29 there are two other technical reasons we should look for support.
- First, there is a rising trendline support.
- Secondly, there is a bullish divergence forming between price and the RSI. Since USD/CAD is in a sideways market in this time-frame, a bullish divergence like this should be respected.

Bullish expectations:
- Now, since USD/CAD is still trading sideways, and thus not bullish, our bullish anticipation will have to be limited. 
- A conservative outlook would be a test of 1.30. If we think there is still further downside in USD/CAD, then we should limit our bullish outlook to 1.30. 
- A choppier market could take price back to the 1.3080 area. 
- The 1.32 level is probably an aggressive target for now, even though it would be in line with the "bullish trend" since mid-August.
- Again, I am limiting the bullish outlook because before mid-August, the market has been choppy and sideways, and the 1.32 area starts to get into the resistance area of a range. 

Downside risk:
- Failure to return above 1.30 would suggest bears to be in charge. 
- This scenario should have the common support around 1.2850 and then the 1.27 handle in sight. 
- The market did crack 1.25 in May, but since USD/CAD has turned sideways and no longer bearish, I would avoid the low on the year as a target.