As Arch Coal Falters, So Do Its Hopes For An Export Terminal In The Pacific Northwest by Ross Macfarlane, IEEFA.org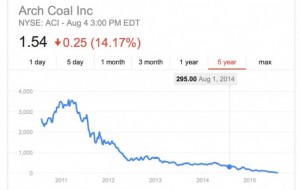 The odds that the proposed Millennial coal-terminal expansion in Longview, Wash., will ever happen are plummeting right alongside Arch Coal's fortunes.
Arch, which co-owns the project with a marginally capitalized partner that used to be called Ambre Energy North America, is in a "death spiral," fighting for survival alongside every other U.S. coal producer as demand for its product tanks and oversupply persists.
The company's game plan was to get Millennial built and then use it as a lifeline to Asian markets, a far-fetched enough proposition already and an ever more hollow idea as time goes by. The company has neither the money nor the credit to proceed. Its market capitalization stands today at about $35 million, a tiny fraction of where it was just a year or two ago, and Ambre is worth even less.
An analysis we published in late July (with Greenpeace, the Sierra Club, Earthjustice and the Dogwood Initiative) documents how Alpha's hopes for Millennial...
More