EUR continues to trade lower against US dollar today amid the expectations that Fed will start increasing interest rate soon. Investors are now turning their attention to this week's key data that is Euro zone inflation data coming out on Wednesday and on the other hand US Non-farm payroll data coming out on Friday.
Eurozone however started the week with German preliminary inflation numbers which showed that German annual rate of inflation remain steady at a very low level of .8% in September, same as in August and July. Although ECB meeting on Thursday is not expected to unveil new stimulus measures, it is expected to provide some guidance how it conduct the asset purchase program. However with inflation still below the target, central bank is expected to leave the door open to large scale asset purchase program.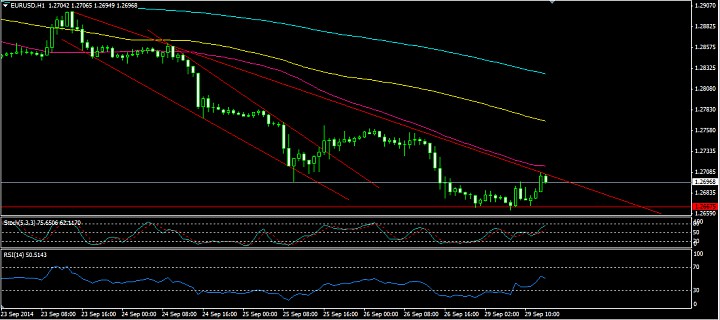 EURUSD : Hourly Chart
On the hourly chart, the pair rose from the falling wedge pattern in an attempt to revive but there seems to be another falling resistance trend line which will prevent the pair in rising further. Currently the pair is testing this falling resistance trend line. According to the trend It will continue to decline breaking below the support at 1.2669.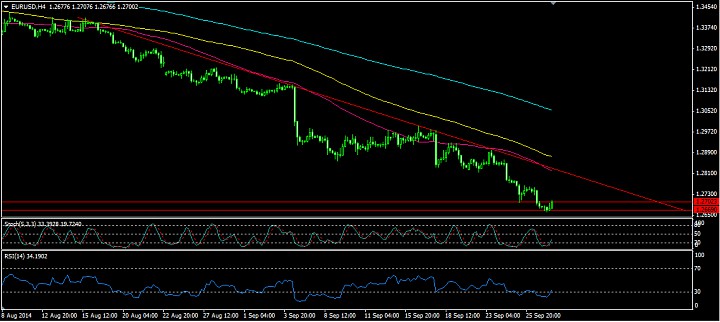 EURUSD : 4 Hour Chart
On the 4 hour chart, we can see that the pair is testing resistance from the previous support and might decline from this. There is another falling resistance trend line which will continue to resist the pair. Therefore even if the pair tries to revive it will pull back the pair downwards.