Alibaba Group Holding Limited's BABA Alipay has entered the U.S. mobile payment market in partnership with retail payment processor First Data FDC.
As a part of the partnership, First Data will deploy Alipay at the point-of-sale for its four million U.S. business clients, beginning with the Clover POS platforms.
Alipay North America President Souheil Badran stated "Our goal is to extend reliable payment services to the over four million Chinese consumers that visit North America every year."
Last year, the duo successfully piloted the implementation of the Alipay mobile payment solution at select First Data retailers in California and New York.
We note that Alibaba has had an impressive run on the bourse over the last one year. The company gained 50.4%, better than the Zacks Internet - Commerce industry's addition of 42.4%. We expect international expansion to back the momentum going forward.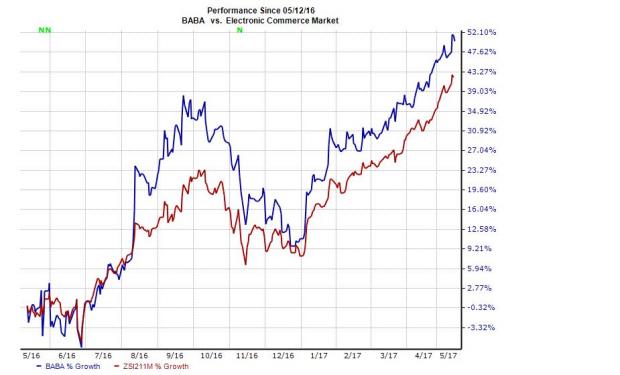 Alibaba Continues to Push Outside China
The move appears to be Alibaba's latest gambit to strengthen its position outside China.  The company has been looking at international markets to expand its business. Its current strategy is to generate earnings through investment in the U.S where it's up against well-established players like eBay and Amazon, who have been seeing great success.
Alibaba Group Holding Limited Net Income (TTM)
On the payment front, Alibaba is already facing tough competition from the likes of Tencent Holdings. Tencent's WeChat Pay service recently tied up with mobile payment platform Citcon to make its service available to Chinese tourists who are in the U.S.
Moreover, PayPal PYPL is very popular among U.S. consumers and is getting increasingly active in the offline segment as well, introducing new solutions almost regularly. Its payment volumes have seen consistent double-digit year-over-year increases with both domestic and international contributing.
Additionally, Apple's AAPL Apple Pay, the mobile payment system that allows iPhone 6 and 6 Plus users to pay bills through Apple's Touch ID application at any wireless pay terminal is gaining momentum. Therefore, we believe, Alibaba's services will take time to build the partnerships and relations to replicate the process in the U.S and get the same success.
First Data Looks to Strengthen North America Presence
We believe that the partnership is aimed at boosting First Data's Global Business Solutions (GBS) business in North America. Notably, First Data will channelize Alipay transactions via Acculynk, First Data's most recent acquisition and a technology company that offers innovative debit routing solutions.
At its first-quarter 2017 earnings call, management stated it expects the Acculynk acquisition to impact the company's financials from the second quarter onward and now it's clear how that's going to happen.
Zacks Rank
Currently, both Alibaba and First Data carry and Zacks Rank #3 (Hold). You can see the complete list of today's Zacks #1 Rank (Strong Buy) stocks here.
The Best & Worst of Zacks
Today you are invited to download the full, up-to-the-minute list of 220 Zacks Rank #1 "Strong Buys" free of charge. From 1988 through 2015 this list has averaged a stellar gain of +25% per year. Plus, you may download 220 Zacks Rank #5 "Strong Sells." Even though this list holds many stocks that seem to be solid, it has historically performed 6X worse than the market.  See these critical buys and sells free >>
Want the latest recommendations from Zacks Investment Research? Today, you can download 7 Best Stocks for the Next 30 Days.
Click to get this free report
First Data Corporation (FDC): Get Free Report
Alibaba Group Holding Limited (BABA): Free Stock Analysis Report
PayPal Holdings, Inc. (PYPL): Free Stock Analysis Report
Apple Inc. (AAPL): Free Stock Analysis Report
To read this article on Zacks.com click here.
Zacks Investment Research