Costco Wholesale Corporation COST seems to be unfazed by the tough retail scenario. Major chains are grappling with sluggish store and mall traffic as consumers choose to shop online from the comfort of their homes. But Costco looks much more disciplined in its approach to adapt to the changing retail landscape. Although the stock came under pressure after the news of Whole Foods Market's buyout by Amazon.com Inc. AMZN surfaced, we can't ignore the company's strong fundamentals.
Shares of this membership warehouse retailer have increased 6.3% in a year comfortably outperforming the industry that declined 0.8%. Currently, Costco carries a Zacks Rank #2 (Buy) with a long-term earnings per share growth rate of 9.5% and a VGM Score of A.
Dominant Warehouse Retailer
We believe that Costco continues to be one of the dominant retail wholesalers based on the breadth and quality of merchandise offered. The company's strategy to sell products at heavily discounted prices has helped it to remain on a growth track as cash-strapped customers continue to reckon Costco as a viable option for low-cost necessities. A differentiated product range enables Costco to provide an upscale shopping experience for its members, resulting in market share gains and higher sales per square foot. Moreover, the company continues to maintain healthy membership renewal rate. It is also gradually expanding e-commerce capabilities in the United States, Canada, U.K., Mexico, Korea and Taiwan. Comparable e-commerce sales for the month of August surged 26%.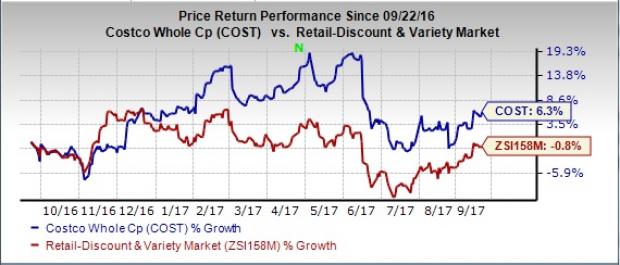 Continues with Positive Comps Performance
Costco continued with positive comparable-store sales (comps) performance driven by improved store traffic and average transaction size. Comps for August increased 7.3%, following an increase of 6.2% in July, 6% in June, 4.1% in May, 3% in April, 6% in March, 4% in February and 7% in January. Notably, net sales increased 10%, 8.8%, 7%, 7%, 5%, 9%, 8% and 9% in August, July, June, May, April, March, February and January, respectively.
Enhancing Global Footprint
We are also encouraged by the company's expansion strategy. Costco has one of the highest square footage growth in the industry, and remains committed to opening new clubs in the domestic and international markets. The company opened 23 and 29 net new outlets in fiscal 2015 and 2016, respectively, and plans to open nearly 26 net new outlets in fiscal 2017, of which approximately 13 are expected to be opened in the United States with the remaining in international markets. In our view, the company's diversification strategy is a natural hedge against risks that may arise in specific markets.
Two Key Picks Apart from Costco
Investors may consider other top-ranked stocks such as Burlington Stores, Inc. BURL and Ross Stores, Inc. ROST both carrying a Zacks Rank #2. You can see the complete list of today's Zacks #1 Rank (Strong Buy) stocks here.
Burlington Stores has a long-term earnings growth rate of 16.2%.
Ross Stores delivered an average positive earnings surprise of 6.3% in the trailing four quarters and has a long-term earnings growth rate of 10%.
Will You Make a Fortune on the Shift to Electric Cars?
Here's another stock idea to consider. Much like petroleum 150 years ago, lithium power may soon shake the world, creating millionaires and reshaping geo-politics. Soon electric vehicles (EVs) may be cheaper than gas guzzlers. Some are already reaching 265 miles on a single charge.
With battery prices plummeting and charging stations set to multiply, one company stands out as the #1 stock to buy according to Zacks research.
It's not the one you think.
Want the latest recommendations from Zacks Investment Research? Today, you can download 7 Best Stocks for the Next 30 Days.
Click to get this free report
Amazon.com, Inc. (AMZN): Free Stock Analysis Report
Costco Wholesale Corporation (COST): Free Stock Analysis Report
Ross Stores, Inc. (ROST): Free Stock Analysis Report
Burlington Stores, Inc. (BURL): Free Stock Analysis Report
To read this article on Zacks.com click here.