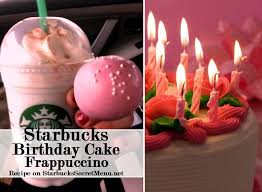 Starbucks is celebrating 20 years  with a limited edition Birthday Cake Frappuccino, which will be sold at all stores from March 26 to March 30.
Starbucks first started experimenting with frozen coffee concoctions at its Los Angeles store in 1993. Two years later, the company was selling coffee and mocha Frappuccino drinks at all of its 500 stores in United States and Canada.
Today, the Frappuccino comes in a variety of flavors and is sold throughout the world at Starbucks' 21,000 locations.
To celebrate, Starbucks is offering a pink version of the drink made with vanilla, hazelnut and "raspberry-infused" whipped cream.
Starbucks  (NASDAQ:SBUX) recalls the origins of the Frappuccino in a wistful press release.
It all started in Los Angeles during a particularly hot summer in 1993. That's when Dina Campion, who oversaw 10 Starbucks stores in Southern California, noticed that other coffee shops were selling blended coffee drinks.
Campion, who is now part of Starbucks digital said: 
"A couple of store managers and I felt there was a huge opportunity for Starbucks," 
SBUX is currently trading at $95.42