Peyton Manning, former all-star quarterback and proud owner of some 30 Papa John's Int'l Inc. (PZZA - Get Report) franchises, caused a stir three years ago when he boasted about roaring sales at his Colorado eateries following the state's legalization of recreational marijuana.
"There's some different laws out here in Colorado. Pizza business is pretty good out here, believe it or not, due to some recent law changes," Manning told Sports Illustrated, after the law took effect.
Marijuana-induced "munchies," it turns out, are a biological phenomenon. Weed makes us think we're hungry because of THC, which is produced in cannabis, stimulates the cannabinoid receptors in our brain that control appetite, mood and pain reception, according to a 2015 study in Nature Neuroscience.
That's why chains like Jack in the Box Inc. (JACK - Get Report) are launching national campaigns to cater to stoned, hungry consumers with strategic partnerships ahead of California's legalization of selling and using weed. Such plays could even drive sales outside California, according to John Gordon, principal at Pacific Management Consulting Group.
"This won't work in Topeka," he told TheStreet via email, but could as a secondary [marketing] message for restaurants that value pot-friendly demographics.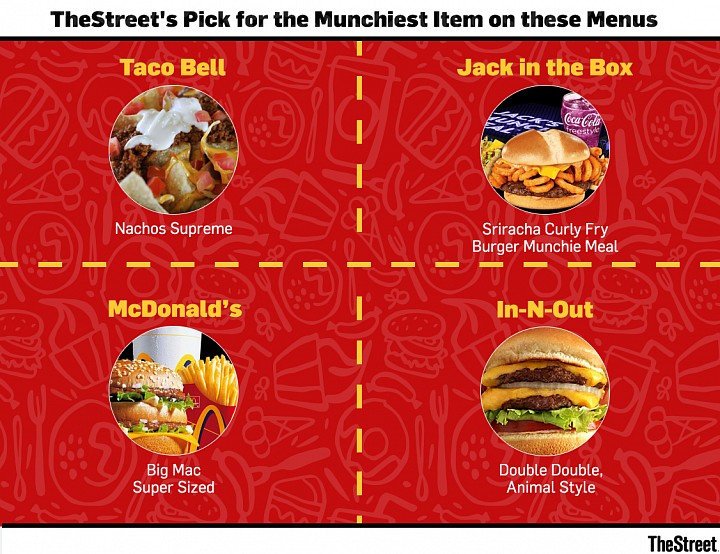 Starting, Monday, Jan. 1, Californians can legally possess, sell and distribute weed under, as long as they follow certain guidelines.
So, what are some of the restaurant chain that will capitalize — intentionally or not — on what's estimated to be a $5 billion market? Here's our take.
True to its SoCal roots, Jack in the Box announced Thursday, Dec. 28, a partnership with Snoop Dogg's weed-centric digital media company on a limited-time Merry Munchie Meal to celebrate and profit from the state's new law.
"This partnership is one more way for us to connect with [our customers] whether you're at a concert, up late playing video games or pulling an all-nighter," said Jack's Chief Marketing Officer Iwona Alter, in a statement.
For $4.20, customers in Long Beach, Calif. — Snoop's hometown — get two tacos, curly and regular fries, three chicken strips, five mini churros and a soft drink. If that's not enough to cure a classic case of the munchies, what else could?
Taco Bell
This one is too obvious. Owned by Yum! Brands Inc. (YUM - Get Report) , Taco Bell has been catering to the late-night munchies crowd since 2010, as seen in its .
Derek Peterson, founder and CEO of luxury weed brand IVXX, a banner under Terra Tech Corp. (TRTC) , told TheStreet that he has seen extra foot traffic at the Taco Bell next door to a Terra Tech dispensary in Oakland, Calif.
"About 50 yards from us was a gross old Taco Bell. About a year after we opened, they tore the place down and built a completely new and gorgeous storefront," Peterson said. "They must have seen a surge in business to make that sort of capital investment."
More