Microsoft Corp. MSFT is reportedly planning a sales restructuring owing to its continuing shift to cloud. As part of the restructuring, the company is about to lay off thousands of employees, according to TechCrunch.

Moreover, the structural reorganization will lead to merger of Microsoft's enterprise customer unit and one or more of its SME focused divisions. The changes are likely to be announced by the end of this week.

Cloud-Focused Reorganization

The reorganization seems to be a part of the change in leadership roles as well as change in priorities and thought process. After long-serving COO Kevin Turner exited, Judson Althoff and Jean-Philippe Courtois took charge of Microsoft's sales and marketing divisions last summer.

Notably, current business-sales chief Althoff expressed his dissatisfaction over the sales techniques of the company in an interview. According to The Seattle Times, he criticized the flawed sales process, which according to him was more suitable for legacy products than cloud oriented solutions.
Microsoft Corporation Revenue (TTM)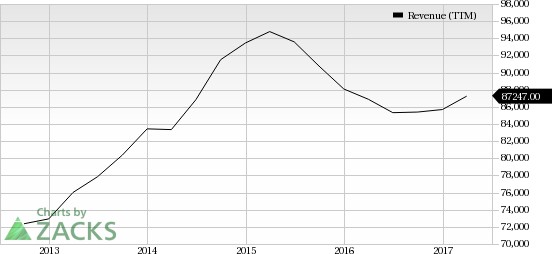 Microsoft Corporation Revenue (TTM) | Microsoft Corporation Quote
The change in thought process was evident from the fact that Microsoft hired more than 1,000 sales people with specialties in "cloud solutions", per The Seattle Times, which had quoted Althoff.
We note that Microsoft plans to lay off almost 2,850 employees in fiscal 2017, as part of its 2016 restructuring process, which will lower operating expenses. Fiscal 2017 operating expenses are projected to be $32.9–$33 billion, down from the previous guidance of $33.1–$33.3 billion.

Moreover, the latest reorganization that focuses on improving cloud-based sales is likely to have a positive impact on the stock price. Microsoft has outperformed the S&P 500 on a year-to-date basis. While the index gained 9.6%, the stock returned 12.2% over the same time frame.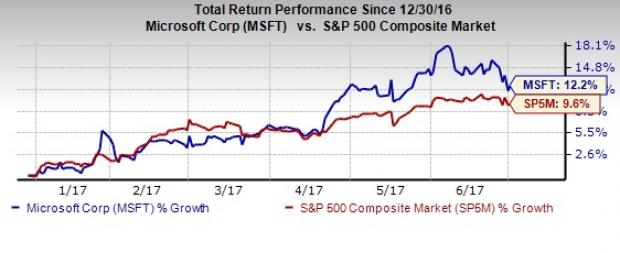 Microsoft to Benefit from Agile Cloud-based Sales Force

The current restructuring is expected to help Microsoft grow revenues faster from the cloud business. We believe that the agile cloud-focused sales force will also enable Microsoft to better compete with Amazon's AMZN AWS in the long haul.

Per latest data from Synergy Research Group, AWS maintained its dominant position in the public cloud services market in the first-quarter 2017 followed by Microsoft, Alphabet GOOGL and International Business Machines IBM.

We note that escalating spending on public cloud services is a positive for Microsoft. According to IDC, total spending on IT infrastructure products (server, enterprise storage, and Ethernet switches) for deployment in cloud environments will increase 15.3% year over year in 2017 to $41.7 billion. Moreover, the market research firm projects worldwide spend on public cloud to reach a whopping $203.4 billion by 2020, which reflects CAGR of 21.5%.

We note that commercial cloud annualized revenue run rate grew 52% to $15.2 billion in the third quarter. Annuity revenues grew double digits. The high point was Azure revenues, which soared 94% year over year at constant currency. Microsoft noted that Azure premium revenues grew triple digits for the 11th consecutive quarter, with more than 80% of Azure customers using the premium services.
Zacks Rank

Currently, Microsoft carries a Zacks Rank #3 (Hold). You can see the complete list of today's Zacks #1 Rank (Strong Buy) stocks here.
5 Trades Could Profit "Big-League" from Trump Policies

If the stocks above spark your interest, wait until you look into companies primed to make substantial gains from Washington's changing course.

Today Zacks reveals 5 tickers that could benefit from new trends like streamlined drug approvals, tariffs, lower taxes, higher interest rates, and spending surges in defense and infrastructure.
See these buy recommendations now >>
Want the latest recommendations from Zacks Investment Research? Today, you can download 7 Best Stocks for the Next 30 Days.
Click to get this free report
International Business Machines Corporation (IBM): Free Stock Analysis Report
Amazon.com, Inc. (AMZN): Free Stock Analysis Report
Alphabet Inc. (GOOGL): Free Stock Analysis Report
Microsoft Corporation (MSFT): Free Stock Analysis Report
To read this article on Zacks.com click here.
Zacks Investment Research