Fitbit Inc. FIT is set to report third-quarter 2017 results on Nov 1. Last quarter, the company delivered a positive earnings surprise of 46.7%.
Notably, Fitbit's results surpassed the Zacks Consensus Estimate in three out of the four quarters. It has an average four-quarter positive surprise of 11.7%.
The company's shares have lost 17.2% year to date, underperforming the industry's gain of 17.9%.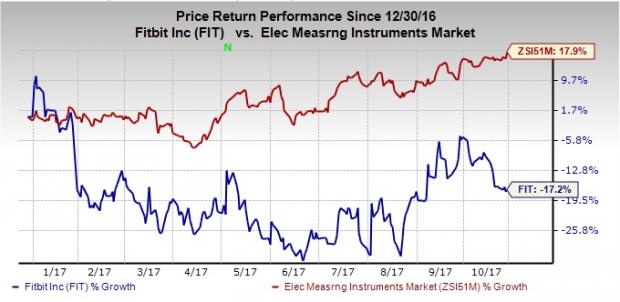 Let us see how things are shaping up for this announcement.
Fitbit Ionic & Others to Drive 3Q Revenues
The company has been introducing new products to increase its revenue base. In late August, Fitbit introduced its first smartwatch, Ionic, a powerful, health-centric wearable. Ionic is a cheaper option to the Apple AAPL Watch Series 3. We believe this new product, which focuses on health and wellness, should help the company to drive revenues in the upcoming third quarter.
For the third quarter of 2017, Fitbit expects revenues to remain in the range of $380-$400 million. The Zacks Consensus Estimate is pegged at $390.9 million.
Increasing Competition from Apple and Others
Despite the wide range of devices Fitbit provides at different price points, it faces competition in both its high and low-end products. At the high end, there is Apple's multi-functional Apple Watch. Also, other big manufacturers are developing connected devices on Alphabet-owned Google's Android operating system. At the lower end, there are fitness-tracking devices from competitors such as Jawbone and Garmin, which also give it strong competition.
Other Growth Initiatives
However, Fitbit is taking initiatives that are expected to pull the company out from slow growth. These steps include offering a streamlined set of products, improving software and services to offer more personalization to customers and achieving greater integration into the healthcare ecosystem.
What Our Model Says
According to the Zacks model, a company with a Zacks Rank #1 (Strong Buy), 2 (Buy) or #3 (Hold) has a good chance of beating estimates if it also has a positive Earnings ESP. Sell-rated stocks (Zacks Rank #4 or #5) are best avoided.
Fitbit has a Zacks Rank #2 and an Earnings ESP of +3.23% which indicates a likely positive surprise. You can uncover the best stocks to buy or sell before they're reported with our Earnings ESP Filter.
Fitbit, Inc. Price and EPS Surprise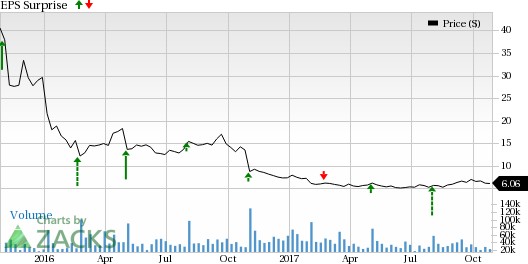 Stocks to Consider
Here are a few stocks you may want to consider, as our model shows that they have the right combination of elements to post an earnings beat this quarter.
Texas Instruments Inc. TXN, with an Earnings ESP of +0.07% and Zacks Rank #2. You can see the complete list of today's Zacks #1 Rank stocks here.
Extreme Networks, Inc. EXTR, with an Earnings ESP of +9.75% and a Zacks Rank #3.
Zacks' Best Private Investment Ideas
While we are happy to share many articles like this on the website, our best recommendations and most in-depth research are not available to the public.
Starting today, for the next month, you can follow all Zacks' private buys and sells in real time. Our experts cover all kinds of trades… from value to momentum . . . from stocks under $10 to ETF and option moves . . . from stocks that corporate insiders are buying up to companies that are about to report positive earnings surprises. You can even look inside exclusive portfolios that are normally closed to new investors.
Click here for Zacks' private trades >>
Want the latest recommendations from Zacks Investment Research? Today, you can download 7 Best Stocks for the Next 30 Days.
Click to get this free report
Extreme Networks, Inc. (EXTR): Free Stock Analysis Report
Apple Inc. (AAPL): Free Stock Analysis Report
Fitbit, Inc. (FIT): Free Stock Analysis Report
Texas Instruments Incorporated (TXN): Free Stock Analysis Report
To read this article on Zacks.com click here.
Zacks Investment Research