For those who slept through the recently-downgraded to junk "Snow Tempest In A Teapot Of 2005", you may want to check the stops of any open EURCHF trades, because, two weeks after the SNB shocked the world and blew up countless retail and institutional FX trading desks, as well as numerous macro hedge funds, the SNB - allegedly - tried to for round two earlier today, when just hours after SNB's Danthine - the same guy who said the EURCHF floor is the bedrock of SNB policy two days before the SNB eliminated it - said that "the SNB remains ready to intervene on foreign exchange markets" that this happened: a dramatic, 250 pips surge in the EURCHF starting at 3 am Eastern.

Naturally everyone started screaming intervention: "The market is on full alert for intervention," says Neil Jones, head of hedge-fund sales at Mizuho Bank Ltd. in London; "the SNB is saying they could intervene at any time; but there's no confirmation, just speculation."
Indeed, there was none, and with liquidity in EUR/CHF far from ample, all it took was some speculation, some momentum, and thousands of stop losses activations, and you got an inverse avalanche.
And then this happened:

Yup: a full reversal... with the EURCHF trading to below where it started before the suspected SNB intervetion, and promptly the narrative changed. The full blow by blow from Bloomberg:
CHF Pares Losses vs EUR, USD as Intervention Talk Fades: Trader
EUR erases gains vs CHF to fall ~2.90% from 1.03826 peak earlier, trading as much as 0.68% lower for the day at 1.00822.
EUR/USD positioning is now less crowded, FX sales trader says
Interbank names and some accounts that were stopped of their EUR shorts on squeeze higher sold EUR/USD, pushing the pair below 1.13
And then there was a suggestion that the EURCHF was merely trying to minimize its month-end P&L on its massive EUR holdings, however it promptly retracted its bid when it realized it was just adding fuel to the fire.
At the end of the day, it is unclear if the SNB did or did not intervene again: if it did it was simply to mimic the PBOC and keep traders off balance, to smash all stops, and to make sure nobody has any standing stop-loss orders in the pair. Of course, it may have simply tried to spread a rumor of its intervention to gauge how deep the liquidity in the pair is.
This is what the entire move looked like from start to finish.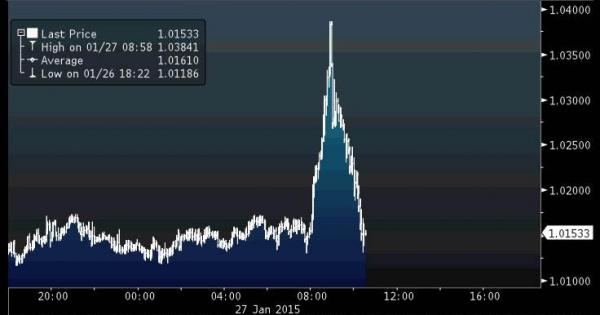 And now we wait to learn if any more FX traders blew up on this far more modest, if just as illiquid move.