EUR/GBP has been bullish for most of the year after a consolidation to start the year, which established the high on the year at 0.84. 
The daily chart shows the persistently bearish price action trading within a bearish channel. The moving averages, and the RSI reflect strong bearish trend and momentum. However after another fresh low on the year last week at 0.7888, we are seeing an extended bullish divergence form in the daily chart.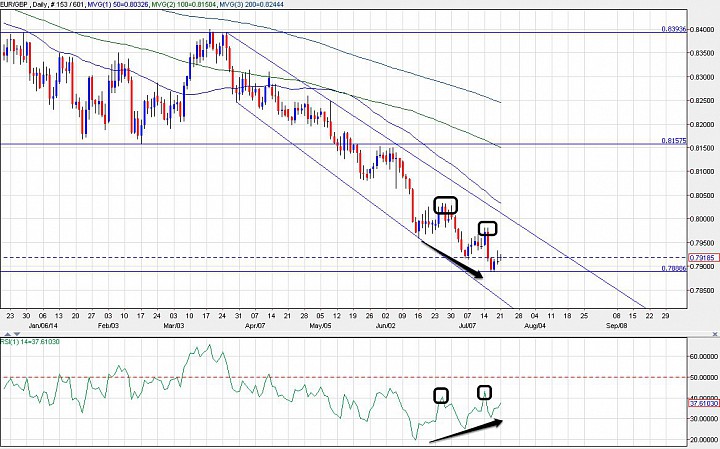 (eurgbp daily chart, 7/21)
Before the bullish divergence there was a bearish outlook from an RSI signal, the negative reversal - when the RSI high is higher but price higher is lower. This suggests continuation of the current downtrend, which occurred already in the form of last week's bearish swing.
Still, the RSI has dipped below 30 several times, but is now turning higher lows while price extends lower. This is a sign that bearish momentum is oversold and a correction is due. 
The persistent of the 2014 downtrend makes this simple. If price can push above 0.7980 and above the falling channel, we should be in a significant consolidation that will be larger than the ones within the falling channel, like the one we had in January through February.
Then we should probably look at the 0.8085, 38.2% retracement level as a possible target for a bullish correction. 
If price however holds below 0.7980, and the RSI makes another higher high, we would have the negative reversal scenario again, and another bearish swing to break below 0.7888 will be in sight.
Inability to break below 0.7888 this week could also reflect a market that could be due for a consolidation/correction.