PG&E Corporation PCG, a diversified utility holding company, engages in the business of electricity and natural gas distribution; electricity generation, procurement, and transmission; and natural gas procurement, transportation and storage.
Stable financial position, steady growth in customer counts, a well-set of utility assets and disciplined investments in infrastructure projects will likely boost PG&E Corp.'s future performance In addition, the company's practice of paying dividend is commendable.
However, penalties levied for the San Bruno and Carmel incidents, stringent environmental regulations and several operational risks remain potential setbacks.
Estimate Trend & Surprise History
Investors should note that the third quarter Zacks Consensus Estimate for earnings of 94 cents per share remained unchanged in the last 7 days.
Coming to the earnings surprise history, PG&E Corporation has surpassed the Zacks Consensus Estimate in three out of the last four quarters, resulting in a positive average surprise of 6.28%.
Zacks Rank: Currently, PG&E Corporation has a Zacks Rank #3 (Hold) but that could change following its third quarter 2017 earnings report which has just released. You can see the complete list of today's Zacks #1 Rank (Strong Buy) stocks here.
We have mentioned below some of the vital information from this just-revealed announcement:
Earnings: PG&E Corporation's earnings were above our earnings estimates. Adjusted earnings per share came in at $1.12, beating the Zacks Consensus Estimate of 94 cents per share by 19.1%.
Revenue: The company's revenues of $4,517 million for the third quarter missed the consensus estimate of $4,959 million.
Key Stats: The company has reaffirmed its adjusted EPS for 2017 in the range of $3.55–$3.75 per share.
Stock Price: In the pre-market trading session, PG&E Corporation's third quarter results made no significant impact on its share price. Yet, it would be interesting to see how the market reacts to the earnings release during the trading session today.
Check back later for our full write up on this PCG earnings report later!
Pacific Gas & Electric Co. Price and EPS Surprise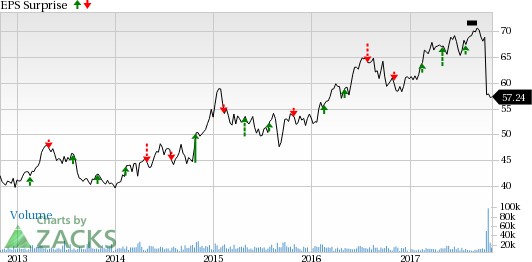 Pacific Gas & Electric Co. Price and EPS Surprise | Pacific Gas & Electric Co. Quote
Zacks' Best Private Investment Ideas

While we are happy to share many articles like this on the website, our best recommendations and most in-depth research are not available to the public.

Starting today, for the next month, you can follow all Zacks' private buys and sells in real time. Our experts cover all kinds of trades… from value to momentum . . . from stocks under $10 to ETF and option moves . . . from stocks that corporate insiders are buying up to companies that are about to report positive earnings surprises. You can even look inside exclusive portfolios that are normally closed to new investors.

Click here for Zacks' private trades >>
Want the latest recommendations from Zacks Investment Research? Today, you can download 7 Best Stocks for the Next 30 Days.
Click to get this free report
Pacific Gas & Electric Co. (PCG): Free Stock Analysis Report
To read this article on Zacks.com click here.
Zacks Investment Research