In a bid to fortify its communication networks portfolio, Swiss engineering behemoth, ABB Ltd ABB, recently announced that it has agreed to acquire data transmission business of the KEYMILE Group. The value of the deal, which is scheduled to close during the third quarter of 2017, has been kept under wraps.
The company already enjoys a stronghold in communication networks business and believes this buyout will allow it to expand its footprint in the industrial, transportation and infrastructure domains. This acquisition will add reliable communications technology offerings to ABB's diverse portfolio, helping it boost its foothold in digital electrical grids.
Buyout to Fortify Communication Networks
Germany-based KEYMILE, which was formed through a merger of three technology companies in Austria, Germany and Switzerland, has about 350 employees. With installations in 100 countries, the company is one of the leading global providers of mission-critical and broadband telecommunication solutions.
KEYMILE serves network operators across a gamut of industries ranging from energy grids to railways. About 120 of KEYMILE's employees will be absorbed in Grid Automation business unit. Presently, the company is particularly focusing on expanding its broadband systems portfolio, buoyed by solid demand.
Also, it will help the company get an access to KEYMILE Group's key products, software and service solutions, and research and development expertise. In addition, it will eventually help the company develop a stronger, smarter and greener grid. Mission-critical systems require state-of-the-art communication networks and ABB believes this acquisition will offer it a competitive advantage over peers.
Eyeing Industrial Internet of Things
ABB is one of the best managed industrial infrastructure, power and automation companies in the world that stands to benefit from investments made in the upgrade of power infrastructure. Over the past six months, ABB's shares have returned 16.4%, outperforming the Zacks categorized Machinery Electrical industry average of 10.7%.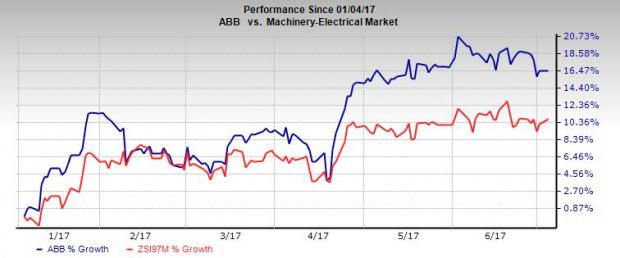 Over the past few months, ABB has been keenly focusing on its latest project, "ABB Ability", which comprises a bundle of digital solutions and services. This will eventually lay the groundwork for the fourth industrial revolution across all markets. The company believes that Ability offerings will enable better network management and allow it to roll out new services. The KEYMILE buyout is a part of its strategy to boost its Ability IIOT (Industrial Internet of Things) digital offering.
Previously, ABB had partnered with technology frontrunners like Microsoft Corporation MSFT and International Business Machines Corporation IBM to increase its capabilities in the industrial internet market. While the partnership with Microsoft is expected to deliver digital solutions on an integrated open cloud platform, the deal with IBM is likely to develop in industrial artificial intelligence solutions.
It will be interesting to see how the KEYMILE buyout helps the Zacks Rank #3 (Hold) company fend off competition from key players, including General Electric Company GE. Please note that brokers are on the sidelines for the stock as its earnings estimates have remained unchanged over the month. The Zacks Consensus Estimate for full-year 2017 has remained steady at $1.22 over the same time frame. You can see the complete list of today's Zacks #1 Rank (Strong Buy) stocks here.
Today's Stocks from Zacks' Hottest Strategies
It's hard to believe, even for us at Zacks. But while the market gained +18.8% from 2016 - Q1 2017, our top stock-picking screens have returned +157.0%, +128.0%, +97.8%, +94.7%, and +90.2% respectively.
And this outperformance has not just been a recent phenomenon. Over the years it has been remarkably consistent. From 2000 - Q1 2017, the composite yearly average gain for these strategies has beaten the market more than 11X over. Maybe even more remarkable is the fact that we're willing to share their latest stocks with you without cost or obligation.See Them Free>>
Want the latest recommendations from Zacks Investment Research? Today, you can download 7 Best Stocks for the Next 30 Days.
Click to get this free report
International Business Machines Corporation (IBM): Free Stock Analysis Report
Microsoft Corporation (MSFT): Free Stock Analysis Report
General Electric Company (GE): Free Stock Analysis Report
ABB Ltd (ABB): Free Stock Analysis Report
To read this article on Zacks.com click here.