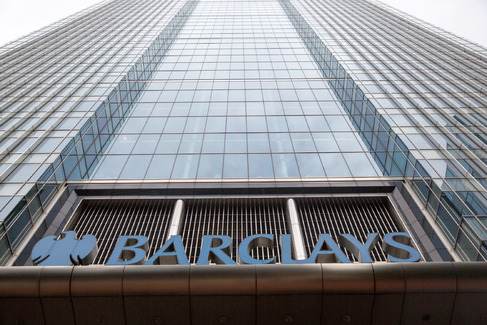 Barclays Plc cut its profitability target for next year after third-quarter profit dropped 10 percent, hurt by a 290 million-pound ($443 million) provision to compensate customers who were overcharged for currency trades. The shares slumped.
Pretax profit, including restructuring costs, fell to 1.43 billion pounds from 1.59 billion pounds in the year-earlier period, the London-based bank said in a statement Thursday. That missed the 1.65 billion-pound average estimate of 14 analysts surveyed by Barclays. The bank cut the target for its "core" return on equity, a measure of profitability, to 11 percent from 12 percent for 2016.
Banks across Europe are struggling to restore earnings growth as they're battered by surging legal costs. Barclays on Wednesday named former JPMorgan Chase & Co. veteran Jes Staley chief executive officer to help cut costs and boost profitability. At Deutsche Bank AG, co-CEO John Cryan said on Thursday he will shrink the workforce by about 26,000 people by 2018.
"The legacy and fresh provision for past misdemeanors has again reared its head," said Richard Hunter, head of equities at Hargreaves Lansdown. There is "no obvious end in sight to consigning these issues to history. Barclays may be a "jam tomorrow" stock, but it appears that investors are prepared to wait."
Redress Provision
The shares dropped 5.4 percent at 239.4 pence at 9:26 a.m. in London, swinging the stock to a loss of 1.9 percent this year. Deutsche Bank has increased 4.5 percent in that period.
The bank took the additional customer redress provision related to currency rates after an internal review. While it didn't follow Lloyds Banking Group Plc in taking another charge for wrongly sold payment protection insurance in the third quarter, the total Barclays has set aside for all U.K. customer compensation this year has now reached 1.3 billion pounds, up from 910 million pounds last year. The bank also took a 270 million-pound charge to settle residential mortgage-backed securities claims in the U.S.
Finance Director Tushar...
More