GoPro, Inc. is scheduled to report Q2 2017 earning on August 3, after market close. Will an earnings beat lift GoPro stock?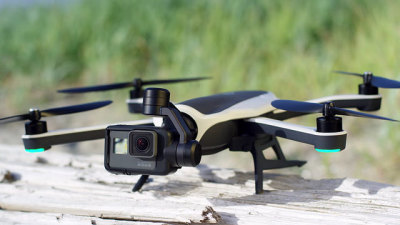 Shares of action camera maker GoPro (NASDAQ:GPRO) have had a torrid year so far. GPRO stock closed the last trading session at a price of $8.24, down 5.4% for the year. In comparison, the Nasdaq Composite (INDEX:COMPX) is up by 17.9% in the same timeframe. However, the dismal performance in 2017 is part of a longer downtrend, which has seen GoPro stock price through a massive freefall. The stock has lost nearly 90% of its value over the last couple of years, giving GoPro stock bulls a beating while the bears have been cheering. In contrast, the NASDAQ composite is up by nearly 24%, which tells you the kind of a rut GoPro has fallen into. GoPro is scheduled to report its Q2 2017 earnings on August 3, after the bell. Can GoPro Q2 earnings help the stock break out of this downtrend? Should you buy GoPro stock going into Q2 earnings?
GoPro Q2 Earnings Analyst Estimates
Wall Street consensus expects the San Mateo, California-based camera manufacturer to report a loss of 26 cents a share on revenue of $270.86 million. The consensus implies a 22.7% top line growth and a 26 cents earnings improvement over the year ago quarter. A growth in the upcoming earnings report will make Q2 the third straight quarter of top line growth, after the botched up Hero 4 launch had sent GoPro revenue into a tailspin. The Q2 revenue consensus has climbed nearly 11% in the last 90 days, up from expectations of $244 million. On the other hand, the EPS estimate has fallen from -$0.19 to -$0.26, a 36% drop over the last 90 days. To put it another way, while Wall Street expects revenue growth to accelerate, the consensus earnings...
More