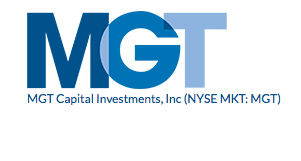 MGT Capital (MGT) released Q2 results and the pump is clearly alive. The quarterly results showed a large increase in expenses and discussions of product enhancements for a company not even owned by MGT yet. 
The market continues to eat up the switch to John McAfee Global Technologies that will no doubt get approval at the upcoming shareholder vote on September 8. The company reported no revenues and a surge in expenses for the quarter. Cash used in operations surged to $2.1 million, up $1.7 million from Q1. 
The D-Vasive purchase adds 23.8 million shares and Demonsaw another 20 million shares. The total share count now approaches 70 million with little in the way of product sales. The market cap sits at $225 million for those that believe in a 71-year old man in the cybersecurity sector dominated by 20-year olds. 
The pump probably continues into the shareholder vote and name change next month. At some point after that, all of the these new shares will look for an exit. Some shares are locked up with restrictions, but clever owners will find ways to lock in profits. As the these new companies are rolled into the MGT results, investors will slowly lose interest in the pump when revenues don't arrive and expenses continue to add up. 
Disclosure: No position