Chipotle Mexican Grill (CMG) just released its second-quarter financial results, posting earnings of $2.32 per share and revenues of $1.17 billion. Currently, CMG is a Zacks Rank #4 (Sell) and is up 1.83% to $355.00 per share in trading shortly after its earnings report was released.
Chipotle:
Beat earnings estimates. The company posted earnings of $2.32 per share, beating the Zacks Consensus Estimate of $2.16.
Missed revenue estimates. The company saw revenue figures of $1.169 billion, missing our consensus estimate $1.184 billion.
Total revenues were up 17.1% from the prior-year quarter. Comparable restaurant sales climbed 8.1%. Restaurant level operating margin increased to 18.8% from 15.5%.
Marketing and promotional expenses were 3.7% of sales, or 70 basis points lower than the second quarter of 2016. The company opened 50 new restaurants and closed two restaurants in the quarter.
For fiscal 2017, Chipotle management now expects comparable restaurant sales increases in the high single digits, 195 – 210 new restaurant openings, and an estimated effective full year tax rate of approximately 38.4%.
"We saw encouraging signs in our improved financial results during the first half of the year. Recent events, however, have shown that we still have a lot of opportunity to improve our operations and deliver the outstanding experience that our customers expect," said CEO Steve Ells. "We will continue to strengthen our teams, enhance our technology, and expand our menu offerings in order to delight every customer who visits us."
Here's a graph that looks at Chipotle's recent earnings performance history:
Chipotle Mexican Grill, Inc. Price, Consensus and EPS Surprise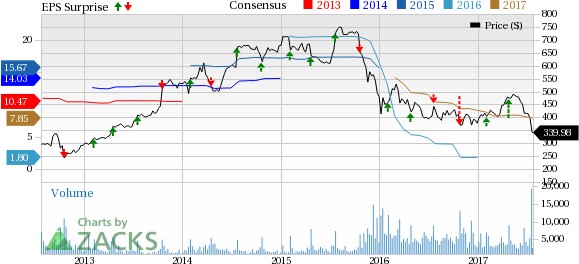 Chipotle Mexican Grill, Inc. Price, Consensus and EPS Surprise | Chipotle Mexican Grill, Inc. Quote
Chipotle offers a focused menu of burritos, tacos, burrito bowls and salads made from fresh, high-quality raw ingredients, prepared using classic cooking methods and served in a distinctive atmosphere. Through its vision of Food with Integrity, Chipotle is seeking better food not only from a variety of fresh ingredients, but ingredients that are sustainably grown and naturally raised with respect for the animals, the land, and the farmers who produce the food.
Check back later for our full analysis on CMG's earnings report!
Want more stock market analysis from this author? Make sure to follow @
https://twitter.com/Ryan_McQueeney
on Twitter!
More Stock News: Tech Opportunity Worth $386 Billion in 2017
From driverless cars to artifical intelligence, we've seen an unsurpassed growth of high-tech products in recent months. Yesterday's science-fiction is becoming today's reality. Despite all the innovation, there is a single component no tech company can survive without. Demand for this critical device will reach $387 billion this year alone, and it's likely to grow even faster in the future.
Zacks has released a brand-new Special Report to help you take advantage of this exciting investment opportunity. Most importantly, it reveals 4 stocks with massive profit potential. See these stocks now>>
Want the latest recommendations from Zacks Investment Research? Today, you can download 7 Best Stocks for the Next 30 Days.
Click to get this free report
Chipotle Mexican Grill, Inc. (CMG): Free Stock Analysis Report
To read this article on Zacks.com click here.
Zacks Investment Research