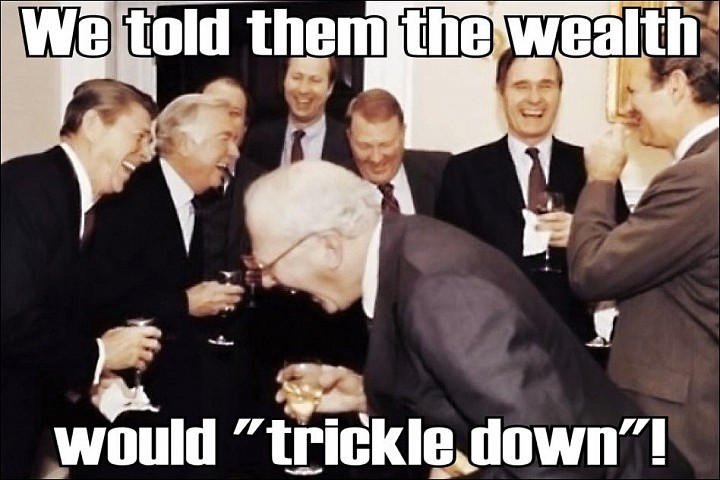 Wow, what a tax plan!  
The plan is, essentially, not to collect any taxes but don't worry, all that wealth will trickle down and the bottom 99% will be so tired of winning they will say "Donald, please, we are tired of winning, make it stop."  As I noted yesterday morning, it is a $4Tn giveaway to the rich, not $2Tn and, now that we have more fact, the Federal Tax Policy Center says this plan will reduce Federal Revenues by $6.2 TRILLION over the next 10 years.  That's $500Bn per year!
At our current rate of Government spending, that will put the US close to $30 TRILLION in debt if Trump lasts until 2025.  The big changes revealed under the new program has several winners:
Corporations – Taxes are cut from 35% to 15%.
High-Income Earners – Top rate cut from 39.6% to 35% and 3.8% Obamacare surcharge removed.  
LLC Members – If you are in an LLC, your income will be taxed at just 15%
Multimillionaires – Couples with estates over $11M and singles with $5.5M will no longer have to pay estate taxes (you know, family farmers).   This will save Trump's children about $1.5Bn when he dies.  
Tax Avoiders – The AMT is being eliminated, now your accountant can get creative again.
Red Staters –  Your state and local taxes will no longer be deductible, a big "screw you" to the blue states, whose citizens believe in social safety nets (and didn't vote for Trump)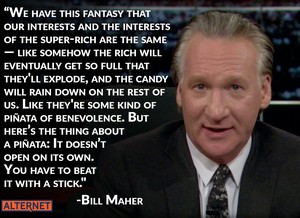 And we get all that for just $6Tn – what could possibly go wrong?  As I noted on Tuesday, $1.7Tn has already gone into the markets (on paper) and today we're closer to $2Tn in gains since the election at Dow 21,000 and, despite the fact that we're doing that on 10:1 leverage (to actual inflows), that will be counted as "economic growth" – even though it's nothing more than a gigantic bubble that is unlikely to have long-term support.
One way Trump is raising money to pay for all this winning is to elminate Teddy Roosevelt's "Antiquities Act", which has been used to protect million of acres of Government lands and monuments from developers and has, traditionally, always been EXPANDED by each President – until now.  Now Trump will undo 100 years of conservation with a stroke of the pen, selling our parks to the highest bidder which, often as not, is a Trump-owned enterprise.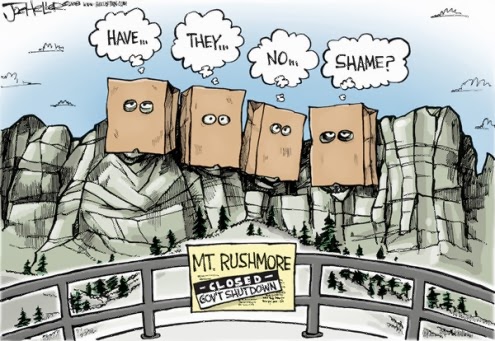 Meanwhile, in our "tremendous" economy, Durable Goods were up just 0.7% vs 1.2% expected and Core Durable Goods FELL 0.2%, missing the +0.4% expectations of leading economorons by 150%.  If this is the state of economic forecasting – aren't we playing with fire when we take actions that lead us to a $30Tn deficit?  Tomorrow morning we will get the Q1 GDP Report and that is expected to come in at 1.1% with Employment Costs Steady at 0.6% and we'll see what happens to the market when GDP is lower and employment costs are higher.
We'll also get Chicago's PMI, which is likely to follow the other regions lower (getting Q2 off to a worse start than Q1) and Michigan Sentiment, which will also trend lower as people are so tired of winning already.  
Earnings have been coming in strong, led by a 112% increase in Energy Sector earnings and, overall, with 20% of the companies reporting, we're 16.2% ahead of Q1 '16, though that was a terrible quarter that was down 2.7% from 2015.  Of course, the S&P was at 1,850 in Q1 last year and now it's at 2,388, which is up 29%, which is kind of a lot to pay for 16% better earnings which is why, despite all the "great" news, we're still leaning short on the market.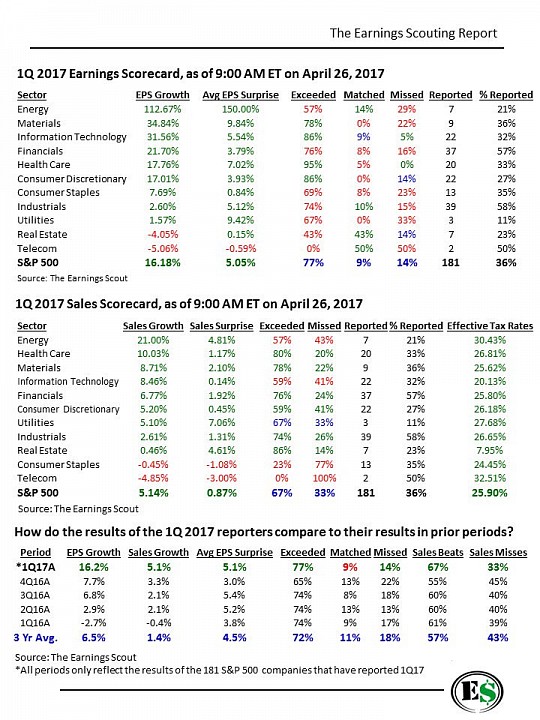 Yesterday, in our Options Opportunity Portfolio (which you can follow over at Seeking Alpha), we added 30 S&P Ultra-Short (SDS) May $13 calls at 0.30 ($900) for a quick hedge and they should be back there this morning.  We're hoping to see a bit of a pullback by tomorrow but, if not, we'll get out before the close with a small loss.  On the bullish side, we're going to buy back the short Oil ETF (USO) July $12 calls, now 0.10 and that will leave us long on USO ($10.12) uncovered into summer driving season, which ramps up in a few weeks. 
Oil (/CL) Futures are way down at $48.50 this morning after a bad inventory report (see yesterday's Live Trading Webinar Replay for detailed discussion on oil) and gasoline has fallen to $1.55 (/RB) and is also a fun long but you need a strong stomach at $420 per penny, per contract as we may not have found a bottom yet but if you think your gasoline is going to be cheaper on Memorial Day than it is today – you simply haven't been paying attention to the last 100 holiday weekends!
For the Futures-challenged, the Gasoline ETF (UGA) is at $25 and the July $24 calls are $2 and you can eliminate most of the premium by selling the $27 calls for 0.70 which is net $1.30 on the $2 spread with 0.70 (53%) of upside potential in 3 months – better than the bank pays…
Be careful out there,
- Phil
Provided courtesy of Phil's Stock World.
Would you like to read up-to-date articles on the day they are posted? Click here to become a part of our growing community and learn how to stop gambling with your investments. We will teach you to BE THE HOUSE - Not the Gambler!