Based on Q1 2016 earnings, Verizon (VZ) made $32.2B in sales, of which revenues from the Wireline segment amounted to $9.3B. Thus, the Wireline segment is worth about 30% of the total income, and a fall in profits in this segment will significantly affect the overall performance of the business.
It should be noted the number of workers gone on strike reached 36500 or approximately 20% of Verizon's total workforce.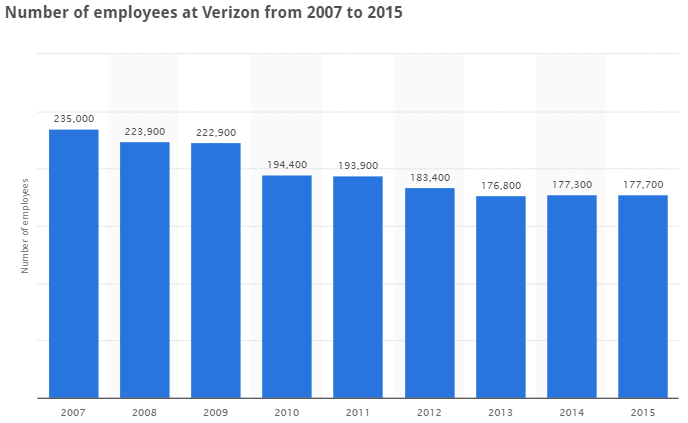 (Source: statista)
An important point is that almost all strike participants are employees of the wireline segment which makes Verizon's earnings from this segment vulnerable in the short-term.
The adverse effects of the 44-day strike are presented mainly in the deferred service to the existing customers, as well as difficulties with the new clients acquisition. During the strike period, about 100 incidents regarding landline connection damages and cutting Verizon customers' wires by unknown persons were recorded.
The severity of these incidents is confirmed by the fact that Verizon announced the deployment of thousands of additional employees for special purposes and contractors to resolve problems with customer service. This indicates that one should expect a guaranteed increase in operating costs for the corporation against the previous quarter.
The incidents, in conjunction with the attendance of qualified and experienced workers in the strike, created problems with customer service. Evidence of these consequences can be monitored by Verizon customer comments on social networks, where people resent about the long delay in service delivery, as well as its low quality. In addition, there are plenty of on the Internet that point out the incompetence of the replacement workers.
Because Verizon's management did not hire additional workers immediately, problems began to accumulate. Additionally, the corporation has engaged workers with lower levels of professionalism, as evidenced by customer reviews. Thus, due to the low speed of service, the replacement workers have focused on the provision of repair and maintaining services to existing customers, while the growth rate of installations for new customers has decreased significantly. This trend is confirmed by the words of Verizon's Chief Financial Officer Fran Shammo that new installations and orders had "significantly dropped". The decrease is financial performance will likely take the full effect in the third quarter of 2016.
Conclusion
Considering the fact that in the third quarter costs will increase and sales will fall, I think that one should expect short-term bearish momentum in the stock price after the Q3 2016 earnings release. Therefore, I think it will be rational for investors to wait until the stock price begins to revive from the downturn before buying the company`s shares.