Streaming has become all the rage these days, as the freedom that these on-demand services provide seem to prove their worth with consumers more and more. This success has attracted many growth investors to this booming sector of the economy.
The likes of Netflix NFLX and Amazon AMZN Prime have seen their user bases grow, helping propel their stock prices. One of the biggest tech companies in the world, Apple AAPL, even had to innovate its music offerings to try to keep up with streaming giant Spotify.
Growth-minded investors have tried to search for the next big tech company poised to explode in this vastly changing economy. However, the hope for massive returns can leave some investors stuck looking at the same small list of companies. This relatively narrowed focus can prevent investors from benefiting from well-known companies simply because they are no longer flashy.
One such company is Sirius XM Holdings Inc. SIRI. This radio pioneer has fared well, even as the world of podcasts and radio apps expands.
The satellite radio powerhouse is currently a Zacks Rank #2 (Buy) and scores well in our Style Scores system. Sirius XM sports "A" grades for both Growth and Momentum and has earned an overall VGM grade of a "B."
Growth Fundamentals
Sirius XM reported strong third-quarter results on Oct. 25. The company's third-quarter revenues jumped 8% to hit $1.38 billion. On top of that, Sirius XM's earnings soared 50%, while the company's net income climbed 42% to $276 Million.
The satellite radio giant added 311,000 new self-pay subscribers, which helped the company reach a total of 27 million. Sirius XM now expects to add a total of 1.4 million new self-pay subscribers for the year.
Looking ahead to the fourth quarter and its full fiscal year, Sirius XM seems ready to keep on growing.
Sirius XM's Q4 revenues are expected jump 6.75% to hit $1.39 billion, based on our current consensus estimates. For the company's full-year, revenues are projected to rise nearly 8% to reach as high as $5.43 billion.
The company's EPS is also projected to experience substantial growth. In the fourth quarter, Sirius XM's earnings are expected to climb 11%. What will be even better news for growth-minded investors is the fact that Sirius XM's full-year earnings are set to soar over 23%.
Sirius XM Holdings Inc. Price, Consensus and EPS Surprise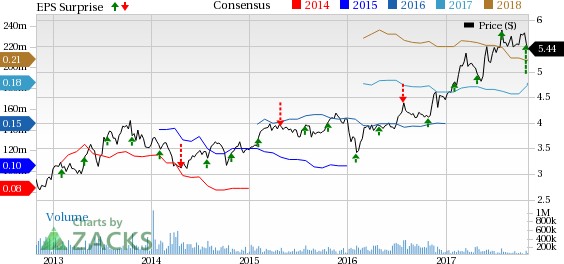 Sirius XM Holdings Inc. Price, Consensus and EPS Surprise | Sirius XM Holdings Inc. Quote
Investors should also be happy to know that Sirius XM has beat earnings estimates in nine out of the last 10 quarters, including the last five in a row.
Along with its recent revenue and earnings gains, and growth projections, Sirius XM's stock price has been on a solid trajectory as well.
Shares of the satellite radio company have surged over 22% this year, which nearly doubles the S&P 500's average and crushes the "Broadcast Radio and Television" industry's 3% decline. What's more, despite its 2017 gains, shares of Sirius XM currently rest over 9% below their 52-week high.
Zacks' Best Private Investment Ideas

While we are happy to share many articles like this on the website, our best recommendations and most in-depth research are not available to the public.

Starting today, and for the next month, you can follow all Zacks' private buys and sells in real time. Our experts cover all kinds of trades: value, momentum, ETFs, stocks under $10, stocks that corporate insiders are buying up, and companies that are about to report positive earnings surprises. You can even look inside portfolios so exclusive that they are normally closed to new investors. Click here for Zacks' private trades >>
Want the latest recommendations from Zacks Investment Research? Today, you can download 7 Best Stocks for the Next 30 Days.
Click to get this free report
Sirius XM Holdings Inc. (SIRI): Free Stock Analysis Report
Amazon.com, Inc. (AMZN): Free Stock Analysis Report
Netflix, Inc. (NFLX): Free Stock Analysis Report
Apple Inc. (AAPL): Free Stock Analysis Report
To read this article on Zacks.com click here.
Zacks Investment Research