EUR/GBP has been retreating since it tagged a high on the year at 0.92. On the daily chart we can see that the pair was consolidating around 0.85 for a week or so, supported by a rising support at the time. Today, during the 9/1 session, price fell below the rising trendline and the recent consolidation area, signaling at least a short-term bearish outlook.

EUR/GBP Daily Chart 12/1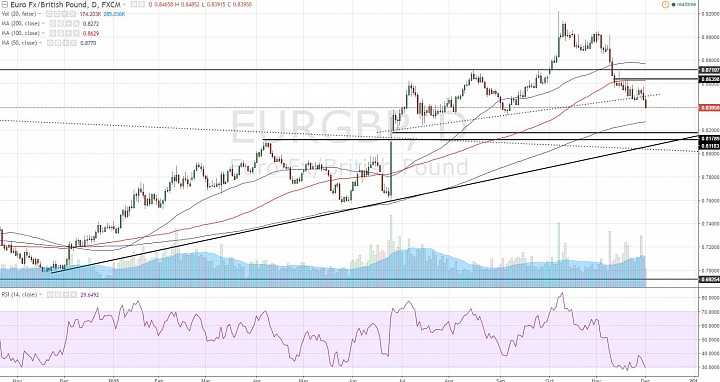 (click to enlarge)

Support at 0.8180-0.82:
- The short-term bearish outlook would be to the 0.8180-0.82 area. This is a support/resistance pivot area. 
- Also, if price falls to 0.82, it would likely be testing a rising trendline as support. 

EUR/GBP 4H Chart 12/1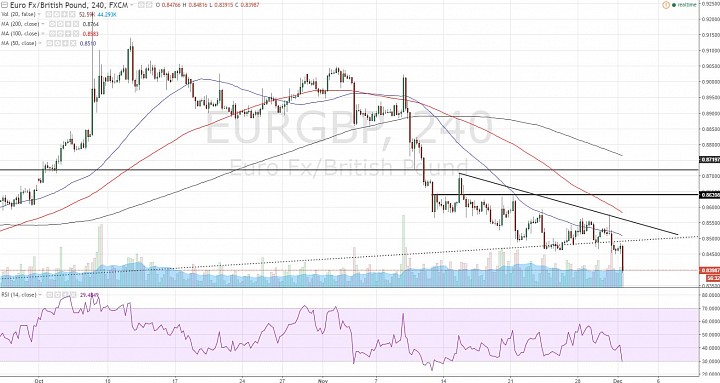 (click to enlarge)
Resistance at 0.85:
- If price rebounds, we should watching out for resistance in the 0.8450-0.85 area. 
- This is kind of the support area for a brief period and could become resistance if EUR/GBP is indeed on a downtrend.
- It would require a break above 0.8550 to open up the bullish reversal scenario.
- Otherwise, the 0.8180-0.82 area is in sight.