The EUR/CAD is trading at a critical resistance juncture and could be breaking out soon.

EUR/CAD Daily Chart 7/27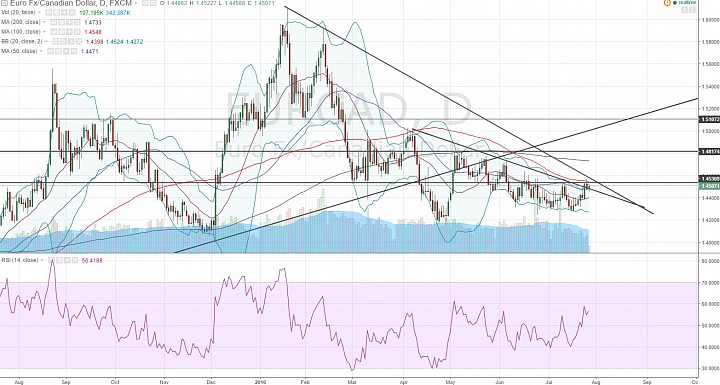 (click to enlarge)
Bearish Trend:
- The daily chart shows that EUR/CAD has been bearish since the beginning of 2016. (It was bullish heading into 2016)
- The 2016 decline has stalled since price found support at 1.42, then again around 1.43. 
- Having found support at 1.43, EUR/CAD appears to have neutralize the bearish outlook.

Key Resistance:
- With the bearish outlook neutralized, EUR/CAD appears to be threatening a bullish reversal.
- As noted, the pair has found support at 1.43 several times, which suggests that it is building a price bottom. 
- The 1.4550-1.46 area will be key. 
- This area contains a falling trendline and the 100-day simple moving average. 
- A break above 1.46 can clear several resistance factors.
- The RSI should also break above 60 if the EUR/CAD is indeed turning bullish. (It should also extend above 70)

At this point, if price falls back, it should find support at 1.44. Otherwise, if price falls below 1.44, we should shelve the bullish outlook and consider EUR/CAD neutral-bearish instead of neutral-bullish.