There, is that clear enough of a call? 
FU people who don't pay, this is a private post for our Members and I've already put out an Alert to our Members (
https://twitter.com/philstockworld
) in which we analyzed Germany's ZEW, the Australian Central Bank Meeting, China's Bond Market and the continuing effect of the Doha Failure (see yesterday's post) that had us shorting /CLM6 contracts at $41.50 (now $41.58) in anticipation of a sharp correction into tomorrow's NYMEX rollover (2:35 pm, EST).  As to the indexes, my comment this morning was (and is):
It is tempting, however, to play a Futures short here – in case we are rejected at 2,100 on /ES (now 2,097.50) and that's lined up with Dow (/YM) 18,000 (now 17,995), 4,585 on /NQ and 1,145 on /TF and 17,200 on /NKD.  You know the rules – short the last 2 of the 3 to cross below, but they are all below now, so we short the closest to the top (/YM or /ES) and we stop out if ANY of them go over! 
This is not rocket science folks.  I made the call after IBM had a miss that cost them $6 (48 Dow points) and before GS missed too and they are down $2 (8 Dow points).  Netflix (NFLX) is down 10% on their disappointing earnings as well and the only think holding up the oil market is the Kuwait strike, which is taking 2Mb/d off the market but could end at any moment.  Oh, and the weak Dollar that's been supporting everything this week. 
We don't need to talk about news and the Fed is done speaking for the week and no interesting data until Japanese Trade Wednesday and then Thursday gets busy again but between now and then is earnings and earnings kind of suck, on the whole, with -8.3% earnings vs. last year BUT, because expectations were SO LOW, that's an 8.2% "upside surprise".  I know I sound like your older brother telling you that Uncle Market isn't really pulling coins out of your ear and it's just a trick – you kind of know it's true, but you don't really want to believe it…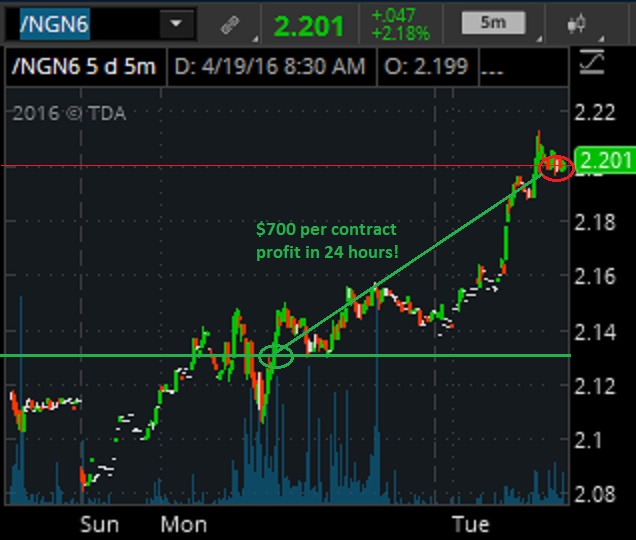 Still, skepticism doesn't stop us from making money.  The July /NGN6 contracts…
Provided courtesy of Phil's Stock World.