Submitted by Michael Gipp of The World Complec
How QE helped Main Street, Example 2: Maserati dealerships
I haven't written on this topic in a long time, but it is time once again to look at the magnificent benefits that have accrued to main street businesses as a result of bailing out bad bets of banks. Today I have selected another typical main street business--the car dealership. I have randomly selected the Maserati brand as the subject of today's investigation.
Sales data for Maserati sold in North America are available here.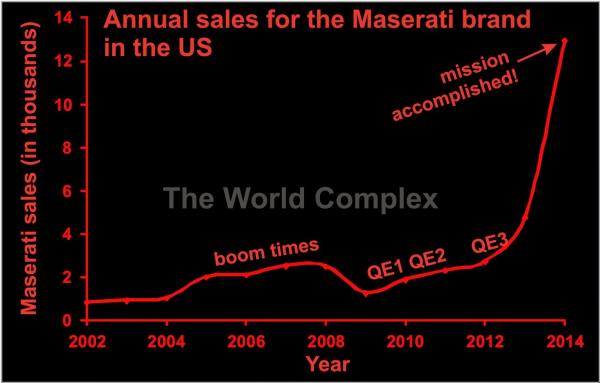 Annual sales of the Maserati brand (in number of cars sold) ranged from less than a thousand per year in 2002 to nearly 13,000 in 2014, thanks to the benevolent leadership of the Fed.
This is a chart that truly screams "Recovery!" In fact, it is quite clear that things are far better now than they have ever been before. If your life seems to be at odds with the obvious economic reality, you are clearly not working hard enough (or perhaps not at all).