It may not look like the most prescient investment right now, but Tencent Holdings Ltd.'s (TCEHY) just-disclosed stake in struggling social media start-up Snap Inc. (SNAP) may still eventually pay off for the Chinese Internet giant.
On Wednesday, Snap shares fell almost 15% to $12.91 following am extremely disappointing third-quarter earnings report in which Snapchat's parent missed on revenues and user growth estimates, although it beat expected losses by a penny per share. On Thursday late morning, shares of Snap were down an additional 3.8%.
Editor's note: This article was originally published by The Deal, a sister publication of TheStreet that offers sophisticated insight and analysis on all types of deals, from inception to integration. Click here for a free trial.
As Snap disclosed in its quarterly report with the Securities and Exchange Commission, Tencent bought 145,778,246 class A shares of Snap in November, representing 11.8% of the company's combined class A, B and C shares. Don't look for a 13-D filing with the Securities and Exchange Commission, however. Because Snap's Class A shares do not have any voting rights, the company said they do not require a 13-D filing or other disclosure to the Securities and Exchange Commission.
Besides an equity with a rapidly diminishing value and no say in governance, what else is Tencent getting for its investment? Here are 5 things:
1. A learning opportunity.
"They like to learn; they like to see new innovations at different companies," Drexel Hamilton LLC analyst Brian White said of Tencent. "One of the ways they do that is make investments."
Earlier this year, the company bought a 5% stake in Tesla Inc. (TSLA - Get Report) for $1.5 billion, and last year paid $10.2 billion for up to 84% of Clash of Clans game producer Supercell Oy. The company also owns 20.5% of Gluu Mobile Inc. (GLUU - Get Report) , which makes games featuring Kim Kardashian and Taylor Swift, and has a less than 5% stake in Activision Blizzard Inc. (ATVI - Get Report) , the gaming studio behind blockbuster franchises Call of Duty and World of Warcraft.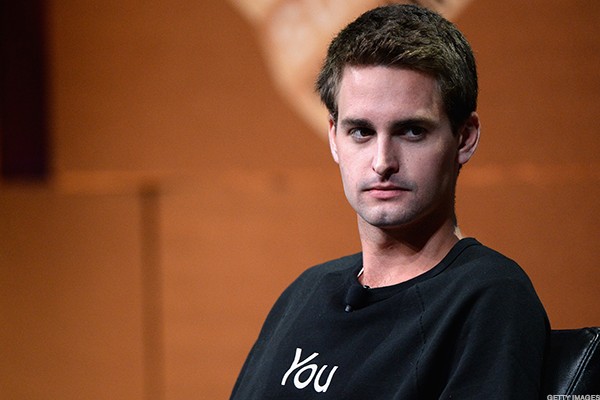 2. A potential partner in China.
"I could see Snap having a pretty big opportunity in China," White said.
The Snapchat app is currently blocked in China, so this would be a longer-term bet on the country's growing base of both smart phones and advanced 4G and 5G networks. To operate in China, Snapchat would need a local partner; either Tencent or Alibaba Group Holding Inc. (BABA - Get Report) , which also holds a stake in Snap, would be viable candidates.
"You've got almost a billion 4G subscribers by the end of this year in China," White said, noting the growing concentration of iPhones and Android devices that could run Snap's app.
"[Snap's] lenses and filters and emojis would be a pretty big hit in China," he added.
More