The forex market has been quiet so far during the extended holiday weekend that started on Friday and continues through Monday.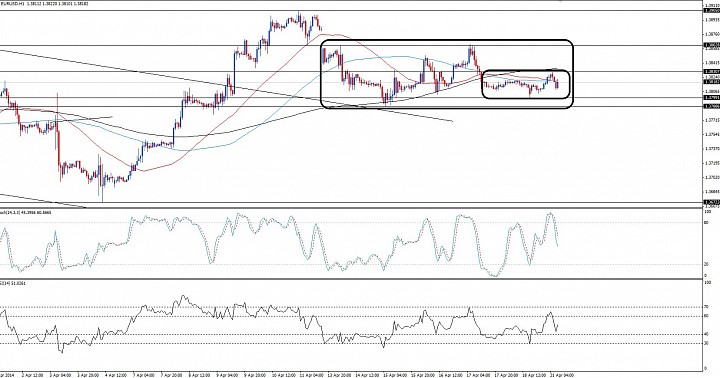 (eurusd 1h chart, 4/21)
The EUR/USD has a 30-pip range between 1.38 and 1.3830. There does seem to be a slight pick up in volatility during the 4/21 European session (which increased the even smaller range before to this 30-pip range.

Still, there is a larger range, from which a breakout would be more indicative of action. Last week, price ranged between 1.3788 and 1.3863.
A break below 1.3788 opens up the 1.3672 April low, but within a sideways, consolidation context in the 4H and daily charts.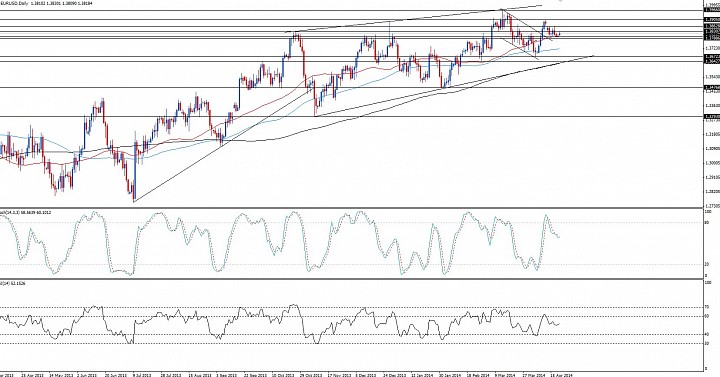 (eurusd daily chart, 4/21)
A break above 1.3865 signals bullish continuation, which is within a prevailing uptrend seen in the daily chart. The 1.3905 and 1.3966 highs would be in sight, with potential for further upside risk because the market has not broken the higher high and higher low bullish pattern.
A break below 1.3640 however would change things from bullish to neutral-bearish.