5 Trade ideas excerpted from the detailed analysis and plan for premium subscribers:
Analog Devices, Ticker: $ADI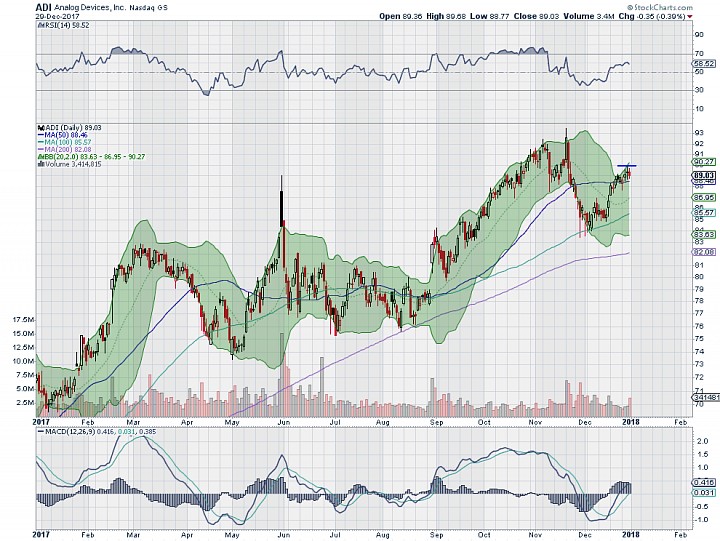 Analog Devices, $ADI, started higher in August, creating separation from its 200 day SMA. That move continued until late November, when it dropped fast, back to its 100 day SMA. It found support at a higher low to start December and reversed higher. Last week it ended consolidating over the 50 day SMA, with the Bollinger Bands® opening. The RSI is trending up in the bullish zone with the MACD rising. Look for continuation to participate higher…..
Crown Castle International, Ticker: $CCI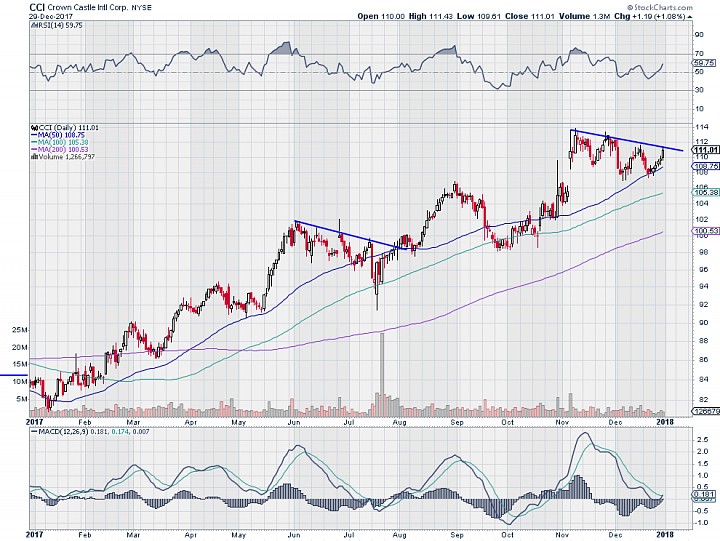 Crown Castle International, $CCI, has trended steadily higher since crossing its 200 day SMA in February. It has had occasional pullbacks to the 50 or 100 day SMA to reset momentum. Last week it moved higher off of the 50 day SMA and ended back at falling trend resistance. The RSI is moving back up in the bullish zone with the MACD about to cross up. Look for a continued move higher to participate…..
Illumina, Ticker: $ILMN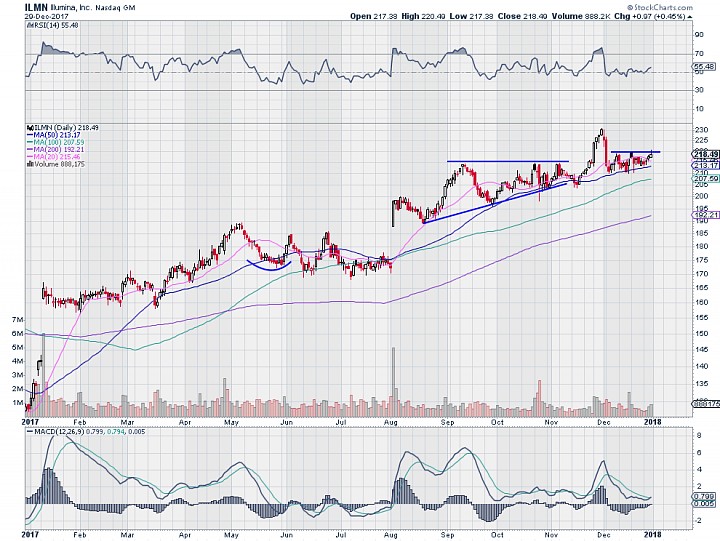 Illumina, $ILMN, gapped higher in August and then has slowly and steadily moved higher since. There was a growth spurt in November that sold off, held at the 50 day SMA and continued to path. Since December it has consolidated under resistance as the 50 day SMA slowly tightens the range. The RSI is holding bullish, but running along the mid line with the MACD about to cross up. Look for a push over resistance to participate higher…..
PacWest Bancorp, Ticker: $PACW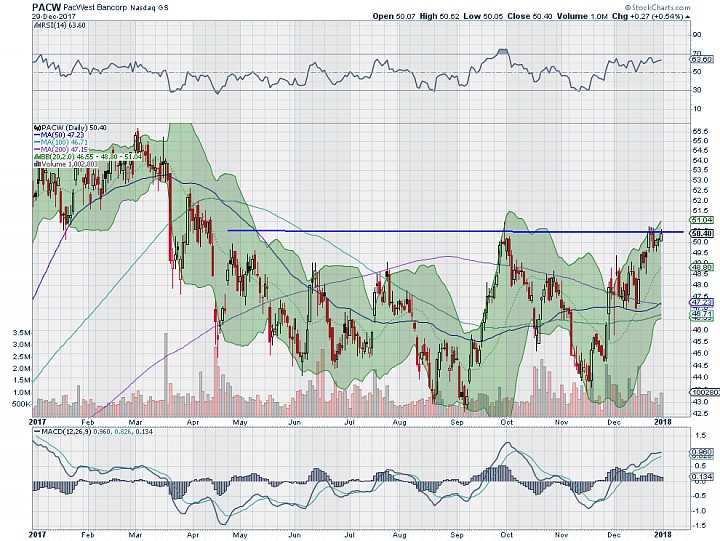 PacWest Bancorp, $PACW, pulled back from a top in February, finding support in September. Broadly it has been in consolidation mode since April, testing 50 a couple of times. One of those times is now. As it does, the RSI is bullish and the MACD is rising and bullish. Look for a push over resistance to participate higher…..
PVH, Ticker: $PVH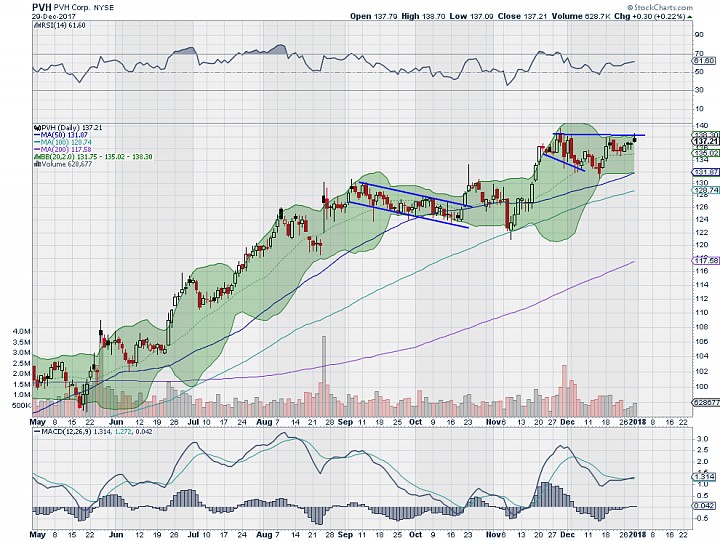 PVH, $PVH, had a strong run higher from a low in May to an interim top in September. It pulled back and consolidated from there, touching its 100 day SMA and then moving higher again. That led to a higher high and more consolidation that continues to today. Last week ended with the price at resistance and momentum starting to shift higher. The RSI is turning up in the bullish zone with the MACD crossing up. Look for a push over resistance to participate higher…..
Up Next: Bonus Idea
If you like what you see sign up for more ideas and deeper analysis using the Get Premium button above.
After reviewing over 1,000 charts, I have found some good setups for the week. These were selected and should be viewed in the context of the broad Market Macro picture reviewed Friday which as 2017 comes to a close sees the equity markets limping into the last day, but holding near their all-time highs.
Elsewhere look for Gold to continue its uptrend while Crude Oil breaks higher as well. The US Dollar Index continues broad consolidation but with risk to the downside while US Treasuries are biased higher in their broad consolidation. The Shanghai Composite and Emerging Markets both continue to consolidate, the Chinese market after a pullback while Emerging Markets do so in their uptrend.
Volatility looks to remain very low keeping the wind at the backs of the equity index ETF's SPY, IWM and QQQ. Their charts show short term consolidation of the long uptrends with digestion while the longer frames remain strong. Use this information as you prepare for the coming week and trad'em well.
If you like what you see above sign up for deeper analysis and trading strategy by using the Get Premium button above. As always you can see details of individual charts and more on my StockTwits page.
The information in this blog post represents my own opinions and does not contain a recommendation for any particular security or investment. I or my affiliates may hold positions or other interests in securities mentioned in the Blog, please see my Disclaimer page for my full disclaimer.
Sponsored Links
.
Gundry MDCardiologist Warns: Throw Out Your Probiotics NowGundry MD
DefinitionRare Photos Not Suitable For History BooksDefinition
LifestylogyMost Embarrassing Prom Photos Ever Captured OnlineLifestylogy
Auto Overload25+ Perfectly Timed Photos That Almost Broke The InternetAuto Overload
Dental Implant Sponsored AdsDental Implants Should Cost THIS in Mountain ViewDental Implant Sponsored Ads
Bonner and Partners SubscriptionThe Great Bitcoin Meltdown is ComingBonner and Partners Subscription












More