As documented here extensively, the big news last week was the Hang Seng, which surged nearly 10% amid new regulations in China which allow mutual funds to invest in Hong Kong-listed shares. The buying frenzy was supercharged by "bargain" hunting Chinese investors who have been pouring into the mainland market by the millions recently and are now searching for "relative" value. In other words, China's world-beating, margin debt-fueled, equity mania has now made its way to Hong Kong much to the delight of local housewives and security guards who have recently decided to become day traders. Here's a bit more color: 
The Hong Kong Exchanges and Clearing Ltd (HKEx) expects it will "substantially increase" quotas for the stock connect program between Hong Kong and Shanghai, HKEx Chief Executive Charles Li said on Friday. The exchange could boost the current quotas, which cap how much mainland investors can buy Hong Kong stocks and vice versa under the trading link, by more than 20 or 30 percent, Li said at a media briefing in Hong Kong.
With the excitement building by the day, Deutsche Bank is out with an upgrade of HKEx which itself rose 4% on Friday. The title of the report is, appropriately, "Running on full throttle." Here's an excerpt:
Since CSRC's new guidelines allowed China mutual funds direct access to HKlisted equities on 27 March, volume in HK's equity market has been on an uptrend, with an average of HK$185bn traded in the seven trading days since then. As a result, almost 90 trading days since the launch of the SH-HK Stock Connect (SHSC), the Southbound Quota was fully utilized for the first time on 8 April, as investor interest in HK-listed stocks surpassed levels last seen in 2007. The following day, the market reached unchartered highs when HK$294bn (US$38bn) worth of shares traded on the exchange, the maximum ever on a given day. This unprecedented surge in HK's cash market ADT and the Southbound quota utilization reaffirms HKEx's strategic position as a conduit for China's capital market flows...

 

Expecting sustained interest from Chinese investors focused on discounted Hshares, and the potential growth in scale and scope of Stock Connect, we revise our FY15 and FY16 ADT forecasts...
We present the following charts with no comment other than to note that HSBC's Head Of China Equity Strategy said the following in an interview last week: "I wouldn't say [it's] a bubble ... this isn't 2007."
"not a bubble"...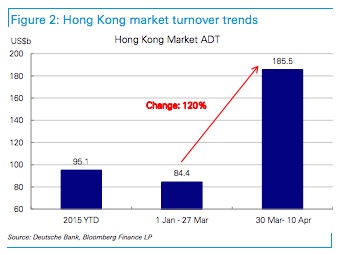 "not 2007"...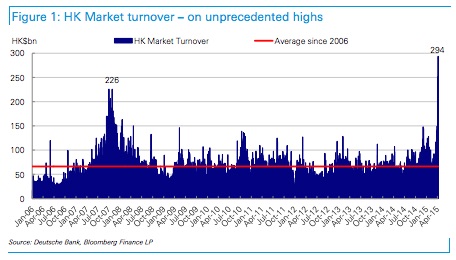 *  *  *
Author's impression of the start of trading in Hong Kong: