Office Depot, Inc. ODP has undertaken a strategic review of business operating model, growth prospects and cost structure to bring itself back on growth trajectory, after an attempt to merge with Staples, Inc. SPLS fell through. The company now intends to focus on core North American market and is in the process of shutting down all international businesses.
Recently, it reached an agreement to divest operations in Australia and New Zealand to Platinum Equity. However, the terms of the transaction are kept under wraps. Earlier in January, this office supplies retailer concluded the sale of European business to The AURELIUS Group.
Other Strategic Endeavors to Uplift Performance
Office Depot is closing underperforming stores, reducing exposure to higher dollar-value inventory items, shuttering non-critical distribution facilities, concentrating on eCommerce platforms as well as focusing on providing innovative products and services. Moreover, the company is increasing penetration into adjacent categories.
With respect to the cost containment effort, Office Depot is employing a more efficient customer coverage model, focusing on lowering indirect procurement costs along with general and administrative expenditures. Additionally, the company is also gaining from its U.S. retail store optimization plan. Management expects these endeavors to result in annual benefits of over $250 million by the end of 2018.
As part of its U.S. retail store optimization program launched in 2014, the company had shuttered 400 stores in the first phase, and plans to close 300 more stores in the second phase over the next three years. Further, it is focusing on smaller format stores of 15,000 square feet to better serve customers. As part of the pilot program, the company converted 25 stores in 2016 and plans to convert 75 stores to this format in 2017.
All these endeavors lifted the stock roughly 41.9% in the past six months compared with the Zacks categorized Retail-Miscellaneous/Diversified industry that inched up 1.1%.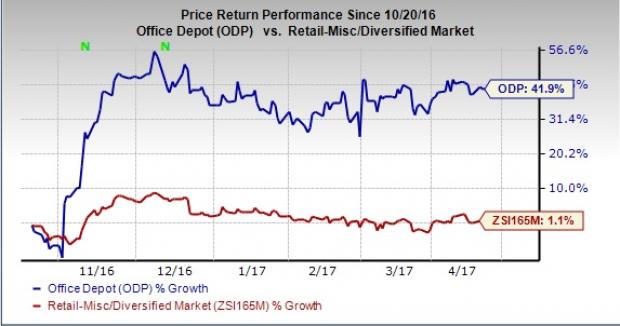 Why the Need?
Analysts pointed out that demand for office products (paper-based) has been decreasing due to technological advancements. Smartphones, tablets and laptops are fast emerging as viable substitutes for paper-based office supplies. Moreover, there has been persistent weakness in the office products sector. Further, stiff competition from online retailers such as Amazon.com, Inc. AMZN has been playing spoilsport for Office Depot. As per recent media report, Costco Wholesale Corporation COST and Wal-Mart Stores Inc. WMT are also striving to enter the office supply delivery services, which will further intensify the competition.
The company continues to battle a dismal top-line that missed the Zacks Consensus Estimate for the tenth consecutive quarter, when it reported fourth-quarter 2016 results. Management expects total sales to be lower in 2017 in comparison with 2016, owing to the store closures, tough market conditions and losses of contract customers in the prior year. However, management anticipates the rate of decline to decelerate throughout 2017 taking into consideration higher customer retention and improvement in the contract channel sales pipeline, along with the implementation of new customer wins.
Office Depot currently carries a Zacks Rank #3 (Hold).
You can see the complete list of today's Zacks #1 Rank (Strong Buy) stocks here.
Will You Make a Fortune on the Shift to Electric Cars?
Here's another stock idea to consider. Much like petroleum 150 years ago, lithium power may soon shake the world, creating millionaires and reshaping geo-politics. Soon electric vehicles (EVs) may be cheaper than gas guzzlers. Some are already reaching 265 miles on a single charge.
With battery prices plummeting and charging stations set to multiply, one company stands out as the #1 stock to buy according to Zacks research.
It's not the one you think.
Want the latest recommendations from Zacks Investment Research? Today, you can download 7 Best Stocks for the Next 30 Days.
Click to get this free report
Amazon.com, Inc. (AMZN): Free Stock Analysis Report
Wal-Mart Stores, Inc. (WMT): Free Stock Analysis Report
Costco Wholesale Corporation (COST): Free Stock Analysis Report
Office Depot, Inc. (ODP): Free Stock Analysis Report
Staples, Inc. (SPLS): Free Stock Analysis Report
To read this article on Zacks.com click here.
Zacks Investment Research