Shares of Rockwell Automation Inc. ROK jumped 7.39% to close at $200.82 yesterday as the market appreciated its rejection of rival Emerson Electric Co.'s EMR latest takeover bid valued at around $28 billion. Notably, Rockwell Automation was among the top gainers among the S&P 500 members yesterday.

Rockwell Automation started the day trading at $210.66, going on to hit a 52-week high of $210.72. So far this year, the company's share price has outperformed the industry as well as the S&P 500. The stock has gained 49.4% while the industry recorded a rise of 35.3% and the S&P 500's increase of 14.2%.
Meanwhile, Emerson Electric gained 15.6%, underperforming its industry's gain of 17.2% but faring better than the S&P 500's rise of 14.2%.


The Shunned Proposals

Emerson Electric's latest proposal was made on Oct 10, per which Rockwell Automation would receive $107.50 per share in cash and 225 million shares of Emerson common stock. The shares were valued at $107.50 per share based on Emerson Electric's 30-day volume weighted average share price of $62.92 as of Oct 10, 2017.

This was Emerson Electric's second attempt to acquire competitor Rockwell Automation. The company had earlier refused Emerson Electric's proposal made on Aug 2, 2017 to acquire it for $200 per share, with approximately half of the consideration in cash and half in Emerson common stock..

Rationale Behind the Offer

Emerson Electric's management had earlier indicated that they considered only small bolt-on acquisitions. However, from these proposals it is evident that the company is now trying to diversify businesses and reduce exposure to volatile energy prices.

Emerson Electric sees Rockwell Automation as a way to get more exposure to the rapidly growing automation business. One of Rockwell Automation's advantages is its advancement in internet of things. It is the technology that allows different devices and systems to communicate with each other over the internet. Even though Emerson Electric has been trying to expand its software portfolio through acquisitions, it clearly lags Rockwell Automation's offerings that help industrial businesses connect their technology operations.

Why Did the Deal Fall Through?

Following a review of the proposal and in consultation with financial and legal advisors, Rockwell Automation's Board of Directors concluded that Emerson Electric's offer is not in the best interest of the company or its shareholders.

Per reports, Rockwell Automation has concerns about the large amount of Emerson Electric's stock in the deal. Further, it is apprehensive regarding Emerson Electric's poor track record of integrating acquisitions.

Why Rockwell Automation is Better as a Standalone Company

Rockwell Automation continues to target long-term revenue growth of 6-8%, double-digit EPS growth, return on invested capital (ROIC) of more than 20% over the long term and cash flow of around 100% of adjusted income. These goals will be supported by Rockwell Automation's strategy of diversifying sales streams by way of expanding products portfolio, solutions and services as well as global presence. The company also aims to achieve growth rates in excess of the automation market by expanding its served market, strengthening competitive differentiation, and catering to a wider range of industries and applications.

Rockwell Automation's new Connected Enterprise ("CE") integrated supply chain management system will be a catalyst. The company is increasing the number of industries, applications and geographies, as well as improving investments to expand the value of CE. With average profitability well above the corporate average, CE sales will be an integral part of Rockwell Automation's incremental growth and boost margins over the next few years.

Rockwell Automation outpaced the Zacks Consensus Estimate in the trailing four quarters, delivering a positive average earnings surprise of 10%. The company has been witnessing upward revisions in the last 90 days. The Zacks Consensus Estimate moved up 0.3% to $6.77 for fiscal 2017 and 0.7% to $7.33 for fiscal 2018. A positive trend in estimate revisions reflects optimism over the company's bright prospects.

Rockwell Automation, Inc. Price and EPS Surprise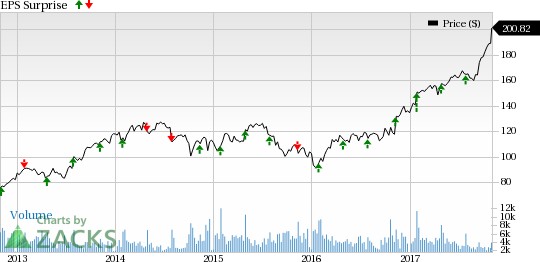 Rockwell Automation, Inc. Price and EPS Surprise | Rockwell Automation, Inc. Quote

Rockwell Automation currently has a ROA of 9.2%, while the industry's ROA is 3%. An above-average ROA denotes that the company is generating earnings by effectively managing assets. Also, Rockwell Automation's trailing 12-month ROE of 22.3% is higher than the industry's ROE of 15.9%, reflecting the company's tactical efficiency in using shareholders' funds. Further, the company's long-term earnings growth rate of 11.3% holds promise.

Thus, Rockwell Automation is better placed on a stand-alone basis and deserves a better offer.

Rockwell Automation currently carries a Zacks Rank #2 (Buy).

Other Stocks to Consider

Other top-ranked stocks worth considering in the same sector are Lakeland Industries, Inc. LAKE and Caterpillar Inc. CAT. Both the stocks flaunt a Zacks Rank of 1 (Strong Buy). You can see the complete list of today's Zacks #1 Rank stocks here.

Lakeland Industries has an expected long-term earnings growth rate of 10%.

Caterpillar has an expected long-term earnings growth rate of 9.5%.

More Stock News: This Is Bigger than the iPhone!

It could become the mother of all technological revolutions. Apple sold a mere 1 billion iPhones in 10 years but a new breakthrough is expected to generate more than 27 billion devices in just 3 years, creating a $1.7 trillion market.

Zacks has just released a Special Report that spotlights this fast-emerging phenomenon and 6 tickers for taking advantage of it. If you don't buy now, you may kick yourself in 2020. Click here for the 6 trades >>
Want the latest recommendations from Zacks Investment Research? Today, you can download 7 Best Stocks for the Next 30 Days.
Click to get this free report
Rockwell Automation, Inc. (ROK): Free Stock Analysis Report
Caterpillar, Inc. (CAT): Free Stock Analysis Report
Emerson Electric Company (EMR): Free Stock Analysis Report
Lakeland Industries, Inc. (LAKE): Free Stock Analysis Report
To read this article on Zacks.com click here.