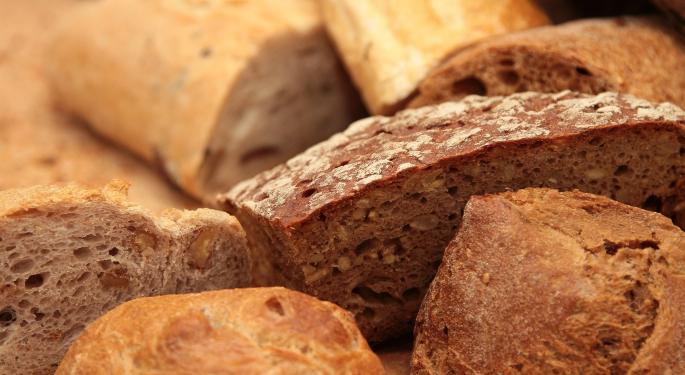 Flower Foods, Inc. FLO 9.01% released its Q2 results after market close on Wednesday. Revenue and Guidance came in below expectations sending shares down.
Flower Foods reported EPS of $0.26 and revenues of $935 million. Analyst consensus had an EPS estimate of $0.26 and revenues of $950 million.
"Benefiting from strong consumer demand for organic breads, our two recent acquisitions, DKB and Alpine, along with expansion markets, drove sales growth in the second quarter, offsetting sales declines in our core markets due to competitive pressures," said Allen Shiver, president and CEO.
Flower Foods saw FY16 EPS at $0.90-$0.95 vs. prior guidance of $1.00-$1.06 and Q3 revenues of $3.93-$3.98 billion vs. prior forecasts of $3.986-$4.08 billion.
"Over the past five years, we have built a strong competitive position in the marketplace, as we made strategic acquisitions to extend our geographic reach and enhance our portfolio of brands. I am confident that with Project Centennial, an in-depth review of our operations, we can enhance shareholder value by identifying new avenues for growth, as well as focusing on ways to become a more efficient and profitable organization better able to deliver long-term value for shareholders," stated Shiver.
"So far this year, we've made good strides building share in growing market segments, extending our geographic reach, and investing in bakeries to support our growth. Even though these activities required time and investment, we are confident they are the right things to do in order to build sustainable value," said Shiver.
At time of writing, Flower Foods traded at $15.94 in Wednesday's after-hours session.
© 2016 Benzinga.com. Benzinga does not provide investment advice. All rights reserved.