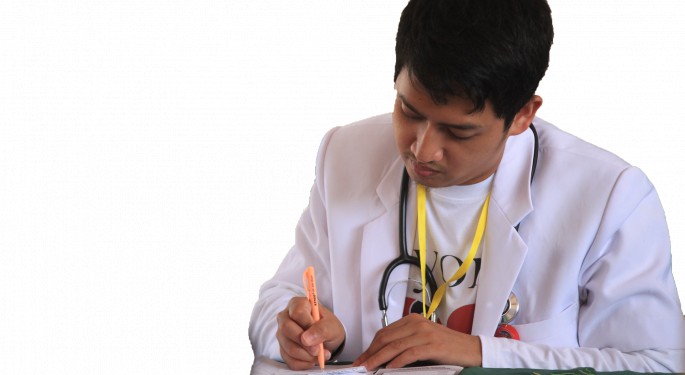 Pfizer Inc. PFE 0.4% revealed Monday it is acquiring Medivation Inc MDVN 0.06%, which has plenty of market participants speculating as to which companies could be the next takeover targets in the pharmaceuticals space.
A Pharma ETF
Of course, there are exchange-traded funds with which to play the pharmaceuticals mergers and acquisitions theme, including the Market Vectors Pharmaceutical ETF PPH 0.11%. The $292.1 million PPH follows the MVIS US Listed Pharmaceutical 25 Index, "which is intended to track the overall performance of companies involved in pharmaceuticals, including pharmaceutical research and development as well a production, marketing and sales of pharmaceuticals," https://www.vaneck.com/vaneck-vectors/equity-etfs/pph/snapsh...">according to VanEck.
Home to 26 stocks, PPH is a potentially compelling mix of buyers and sellers, assuming pharmaceuticals mergers and acquisitions heats up in earnest.
"Consolidation continues as big pharmaceutical firms search for scale and efficiencies. However, as the number of new drugs in the pipeline increases, and manufacturers face manageable patent expiry risks, large acquisitions will become less necessary. We expect larger manufacturers to seek out individual therapeutics and smaller biotech companies through targeted acquisitions and partnerships designed to strengthen innovative drug portfolios," said Fitch Ratings in a recent note.
Pfizer, which is nearly 5 percent of PPH's weight, has been acquisitive. Earlier this year, Dow component Pfizer paid $5.2 billion to acquire Anacor. PPH's other holdings, none of which command more than 5.4 percent of the ETF's weight, include some other names with the balance sheet strength to get large deals done. That group includes Johnson & Johnson JNJ 0.34% and Merck & Co., Inc. MRK 0.57%.
More than a third of PPH's current holdings have been rumored to be takeover at some point and a comparable amount of the ETF's lineup, including Pfizer, are seen as credible participants in pharmaceuticals deals.
"Pfizer's acquisition of Anacor in June is another example of a recent targeted acquisition. Anacor's eczema treatment crisaborole will be an important near-term asset for the company. Other transactions include Bristol-Myers Squibb's acquisition of Padlock Therapeutics, which could expand its presence in the treatment of rheumatoid arthritis. In its acquisition of Glycostasis, Inc., Eli Lilly looks to develop a form of insulin that self-releases when a diabetic patient's blood-sugar level is too high," added Fitch.
Those stocks combine for about 14 percent of PPH's weight.
Do you have ideas for articles/interviews you'd like to see more of on Benzinga? Please email feedback@benzinga.com with your best article ideas. One person will be randomly selected to win a $20 Amazon gift card!
Disclosure: Todd Shriber owns shares of JNJ.
© 2016 Benzinga.com. Benzinga does not provide investment advice. All rights reserved.