Back in September, when it first went public, and when it quickly became talk of the own, a constant source of China buzz, not to mention making Jack Ma China's richest man, its market cap soared as high as $250 billion, making it one of the top 10 most valuable companies by market cap.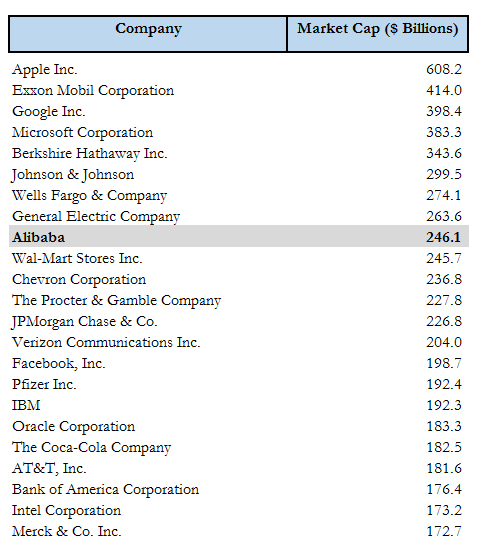 ... and then the headaches began, following news that China's government may crack down on what was dubbed Alibaba's "illegal operations", which sent its stock sliding to the point where not even one CNBC cheerleader would dare to comment on the same stock that all were previously confident would promptly surge to $120, $130 or higher. Because, you know, momentum.
And then things got even worse, pushing the stock to the lowest level it has seen since its IPO level, and its market cap to under $200 billion for the first time as a market company.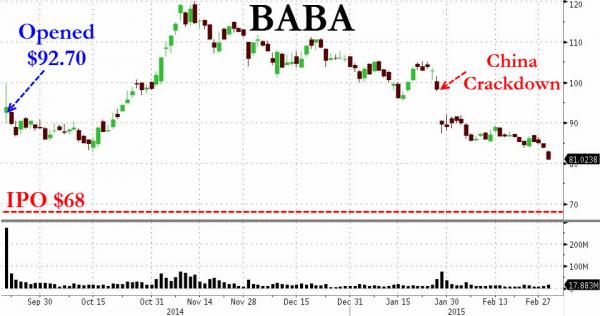 So what is the reason for the latest weakness? Well, according to a report in the WSJ, an unknown amount of Alibaba's "countless" customers - the very basis of the company's ridiculous valuation in the first place - are literally just that: countless. Because they are fake.
From the WSJ:
When Mr. Cui, an entrepreneur in the southeastern Chinese city of Hangzhou, wanted to draw more attention to the hair clips and costume jewelry he sold on the shopping sites of e-commerce giant Alibaba Group Holding Ltd. , he says he turned to fake orders. Faking orders, or "brushing," as it is called in China, involves paying people to pretend to be customers. It lets vendors pad their sales figures and, in theory, boost their standing on online marketplaces, which often give more prominence to high-volume sellers with good track records.

 

Typically, vendors pay brushers the cost of the products they are ordering, plus a fee. The brushers place the orders and make payments using that money. The vendors then ship boxes that are empty or full of worthless trinkets, while the brushers write glowing reviews.

 

The practice is considered a form of false advertising, which is prohibited in the U.S. and China. Chinese sellers found doing so face fines and restrictions on their business. But Mr. Cui, who asked to be identified only by his last name, said he relied on fake orders because he felt there was no other way for his products to be seen.

 

Brushing puts Alibaba at risk of further regulatory scrutiny following its $25 billion initial public offering in September, and calls into question the volume of transactions actually conducted on its platforms, a metric analysts cite in saying it is the world's largest e-commerce platform. Alibaba says it doesn't condone fake transactions and that it scrubs them from reporting on merchandise volume, which amounted to 1.68 trillion yuan ($274 billion) for its two main shopping platforms, Taobao and Tmall, in the fiscal year ended March 2014.
This is how "brushing" looks like visually: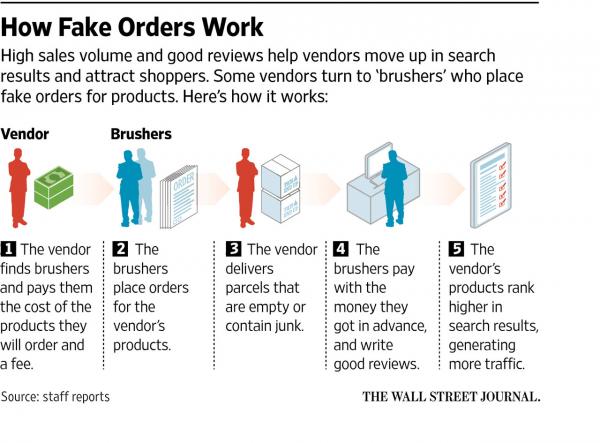 Fake orders, fake customers... And that's just the beginning: completing the bizarro circle, one can now buy classes on Alibaba that teach you how to fake Alibaba customers!
Some brushers even list their services on Alibaba's sites, while others offer classes on mimicking real shoppers and eluding auditors.

 

Without fake transactions, "your product will end up at the very back of the search results, and people will never be able to find it," said Mr. Cui. He took classes on how to avoid getting caught, learning to browse a few stores before placing fake orders. The strategy didn't pay off: He closed his shop last year because it wasn't making enough money.
The problem is that now everyone is doing it, so even the fakers can't get real results:
Mr. Cui said with a bit of brushing—at the cost of 5-10 yuan per transaction—he could make it seem as if his products were selling well, encouraging more shoppers to buy. Faking several dozen transactions a day for a week could get his products within the first five pages of search results, he said.

 

But Mr. Cui, who turned to a group that specializes in fake orders, said competition was too stiff in his particular market segment of supercheap, indistinguishable accessories, for brushing to turn around his store's fortunes.
But wait there's even more!
Because this being China - the country where everything is fake - it means once you enter the rabbit hole, the bizarroness just grows exponentially!
Sellers can also buy online storefronts complete with high sales volumes and customer-service ratings that normally have to be earned. Alibaba says it doesn't allow the trading of stores.

 

Shanghai-based bicycle and cycling goods store Factory Five said it was approached by a salesman in early 2012 who said he could instantly make the bike store one of the most popular on Taobao.

 

"He was offering a complete store, with a nice, high [customer-feedback] score which means you look like you've been trading for a long time and are full of reputation," said Factory Five co-founder Drew Bates.
And this is what investors dumped their money on, without having a single clues just how pervasive fraud of this caliber is in China.
One thing that isn't fake: the paper losses for anyone who bought BABA at any point since it went public and held. Those are all too real, and just waiting to be booked.
But the take home message, now that BABA's deception is being exposed, is that the market suddenly believes that BABA's fake orders and customers, valued at under $200 billion (and soon going much lower), are worth less than Facebook's just as many fake users and eyeballs, whose market cap at last check was $220 billion and rising.
Then agan, it is all very fitting: fake customers, fake orders, fake users - all adding up to one fake market, in a world that increasingly seems to have emerged right out of The Onion's worst nightmare...