Stocks are about to take THE line that has supported the rally ?going back to 2012.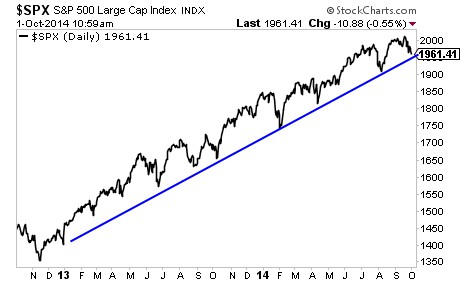 The amount of bearish issues the markets are facing is almost staggering.
1.     Corporate debt is back to 2007 PEAK levels.
2.     Stock buybacks are back to 2007 PEAK levels.
3.     Investor bullishness is back to 2007 PEAK levels.
4.     Margin debt (money borrowed to buy stocks) is at 2007 PEAK levels.
5.     The leveraged loan market is flashing major warnings.
6.     Corporate insiders are dumping shares at a pace not seen since the TECH BUBBLE TOP
7.     Numerous investment legends have warned of a coming crash.
8.     Investor complacency is at a record LOW.
9.     The Fed has confirmed QE is ending this month, so the juice is cut off for now.
Economically speaking…
1)    Japan is back in recession
2)    China is growing at 3.5% at best
3)    Germany is contracting.
4)    Italy is in its third recession since 2008.
5)    France has registered ZERO growth for six months.
6)    The US economic data is all bogus bean counting based on inventory and accounting gimmicks (real GDP is negative).
All in all over 50% of world GDP is negative or flat-lining.
We have the very makings of a Crash. If stocks breakdown from this line and cannot reclaim it, we could easily wipe out all of the gains going back to 2013.
Are you ready?
This concludes this article. If you're looking for the means of protecting your portfolio from the coming collapse, you can pick up a FREE investment report titled Protect Your Portfolio at http://phoenixcapitalmarketing.com/special-reports.html.
This report outlines a number of strategies you can implement to prepare yourself and your loved ones from the coming market carnage.
Best Regards
Phoenix Capital Research