Forget the weather, it must be the smog. China just announced total carnage in its trade data for March:
CHINA'S MARCH IMPORTS FALL 12.3% Y/Y IN YUAN TERMS; EST. -11.3%
CHINA'S MARCH EXPORTS FALL 14.6% Y/Y IN YUAN TERMS; EST. +8.2%
CHINA'S MARCH TRADE SURPLUS 18.16 BILLION YUAN; EST 250B YUAN
So what exactly was the Chinese stock market 'discounting'?
Trade Surplus collapses... (economists knew about year-end and forecast +250bn!!!)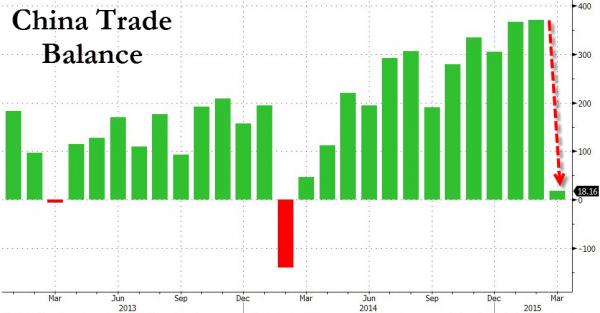 As Exports crash and Imports continues to slide for the 5th month...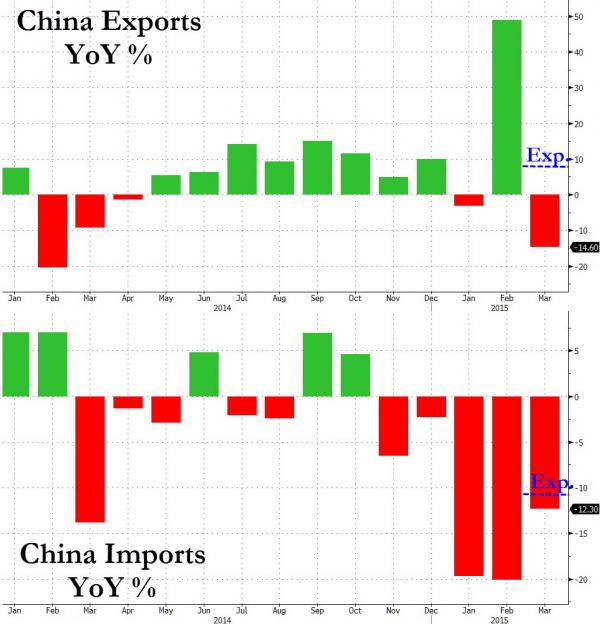 While year-end shenanigans will likely be blamed (and sure enough...)
*CHINA 1Q TRADE VOLATILITY MAINLY DUE TO SPRING FESTIVAL: HUANG
*UNCERTAINTIES EXIST IN CHINA'S 2Q EXPORTS MOMENTUM: HUANG
Which is odd that all the data massively missed expectations which we assume Economists were aware of the calendar?
We suspect - given the weakness in other recent data - that this clarifies the fact that Beijing will have to devalue and fast. Their economy is crashing...
Which means Moar QE... Which means stocks limit up?