Betting On Japan, Inc.'s Recovery by Vadim Zlotnikov, AllianceBernstein
Japanese stocks have outperformed their peers the past few years, and we don't think their run is over. Policies to improve profitability, capital use and productivity should provide a stronger foundation for further gains.
The run started when the Liberal Democratic Party, led by Prime Minister Shinzo Abe, returned to power in December 2012. Abenomics brought a weaker yen, providing a tailwind to Japanese-based global corporations. It also boosted import prices, helping break the deflationary trend in Japan. As a result, the profitability of Japanese firms, as measured by return on equity (ROE), has recovered to near historical highs (Display).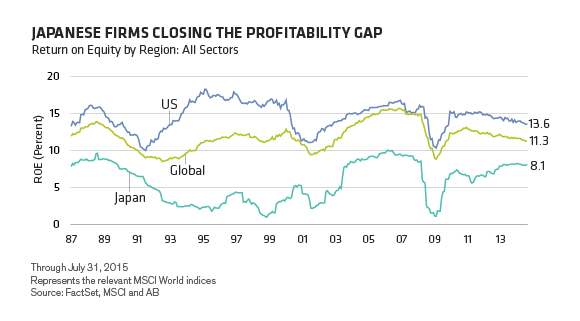 At this point, there are questions as to how much energy Japanese equities have left: whether it's mixed macro data, worries about China, or uncertain policy direction. Meanwhile, Japanese equities are trading nearly on par with those of other developed markets based on the price-to-forward-earnings ratio, indicating limited potential for further multiple expansion at current earnings levels.
So, is it time to trim our overweight to Japanese equities? We don't think so.
Further Gains Require Structural Economic Changes
However, we think the next round of outperformance will come from Japan closing its substantial ROE gap versus its global peers. By closing this gap, our research suggests, Japanese companies could generate more than 30% excess earnings growth over the medium term. But narrowing the gap requires fundamental...
More