AMC Networks (AMCX) owns and operates various cable television stations and engaged in producing programming and movie content. Its programming network channels include AMC, IFC, Sundance, WE, and BBC America. The company is best known for its shows Brekaing Bad, The Walking Dead, Better Call Saul and Hell on Wheels.The company is the Bull of the Day after it recently became a Zacks Rank #1 (Strong Buy).

AMC has a market cap of $4.75 Billion with a Forward PE of 11. The stock should be viewed as a value play with its low multiple, a factor giving it a Zacks Style Score of "B" in Value. The company has an expected 3-5 year growth rate just above 10%.

The stock was recently upgraded by Macquarie with an $82 price target. The firm highlights AMC's efforts to build its ownership of premium programming and its valuation as reasons to like the stock. Macquarie notes the success of the international networks and that AMC can extend its content onto skinny bundles offering subscription video on demand.
Relative Weakness.

AMCX has pulled back from its 2015 high of $83.97 to the $65 area. In February the stock hit a low of $60.67 and has since grinded its way higher. However, it hasn't seen much love during this recent rally as investors don't seem to be buying its valuation yet. There are concerns that the mega-hit programs have hit their peaks and room for growth is limited. Being that this is priced in the stock, any surprise in growth in the earnings numbers will send the stock higher. The company reports May 5th.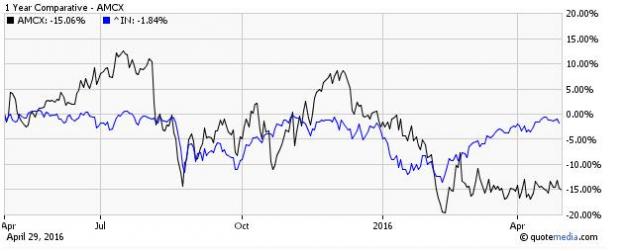 Growth Opportunities

The chart below shows the steady growth of users using SVoD over the last couple years. According to Statista.com the number of these users is expected to rise to 800 million by 2020, a number that was 400 million in 2014. While Amazon and Netflix are the dominating players, networks like AMC are looking to grab subscribers for their content.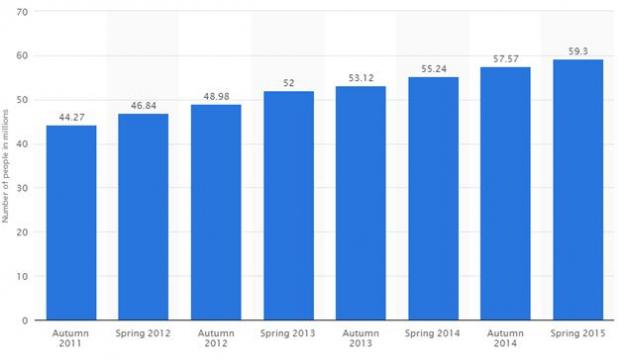 Earnings and Stock Buyback

Last quarter, the company beat by seven cents and revenue came in $9 Million better than expected. CEO Joshua Sapan went into detail on the quarter: "We premiered three new AMC original series, Fear the Walking Dead, Better Call Saul and Into the Badlands, all of which broke ratings records. We received widespread critical praise and industry honors for our television and film content. We continued to build and expand our international business into key markets across Europe and Latin America."
 
Early in March the company announced a stock buyback of $500 million, which was 10.4% of the market cap at the time. Management obviously has a strong feeling the stock is undervalued.

Looking at the chart below, analyst think the same, as the stock has come down and estimates have remained high. That gives the stock potential to the upside of $20. The beauty of the market pricing in peak programming is that if AMCX can surprise EPS to the upside, the stock will pop significantly. Short interest will help, with 18% of the float short, and 73 days to cover against daily volume.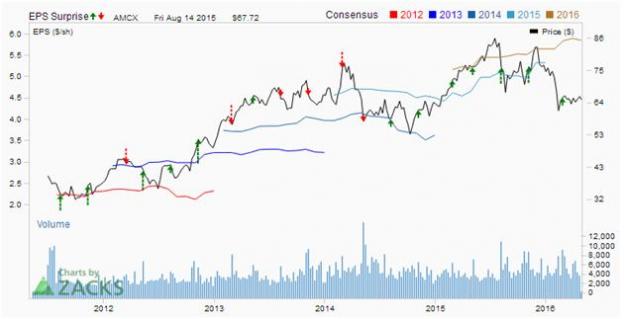 EPS Surprises

AMC will go for its seventh straight EPS upside surprise and there are reasons to believe the company will do just that. Analyst estimates have trickled higher over the last 7 days for the current quarter. For the current year, estimates have gone from $5.65 to $5.85 over the last 90 days, a move of 3.5%. Look for the company to report and beat on May 5th.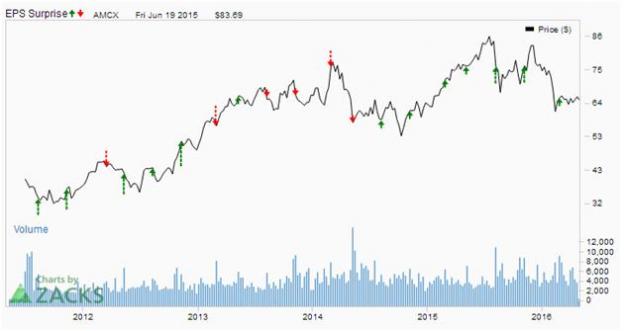 In Summary

AMC networks offers a value opportunity in a stock that is being pressured down by short sellers. The peak programming short story isn't justified as AMC continues to roll out new content on its diversified networks. I expect the stock to see significant upside if they can prove it and beat on EPS next week.
 
Note: Want more articles from this author? Scroll up to the top of this article and click the FOLLOW AUTHOR button to get an email each time a new article is published.
Want the latest recommendations from Zacks Investment Research? Today, you can download 7 Best Stocks for the Next 30 Days.
Click to get this free report
To read this article on Zacks.com click here.
Zacks Investment Research