Two overhangs now weight on Kerx Pharmaceuticals: quarterly results and supply interruption. In the earnings release, Kerx acknowledged a supply interruption will force the company to withdraw its forecast for the year.

In the company's press release, Kerx said:
an interruption in the supply of Auryxia® (ferric citrate) tablets is imminent due to a production-related issue converting active pharmaceutical ingredient (API) to finished drug product. Keryx expects to make Auryxia available to patients when supply of Auryxia is back to adequate levels, which Keryx anticipates will be during the fourth quarter of 2016.
This hiccup is disappointing. The ingredient constraint limits supply and hurts sales, albeit temporarily. Management's acknowledgement of the problem damages the stock price now.
Keep your head straight on the issue at hand. The disruption is temporary and the company is addressing the problem. The backlog in orders suggests earnings dropping in the current (third) quarter. Earnings will jump in the fourth quarter and beyond.
At a 30% drop, Kerx' sell-off is clearly overdone.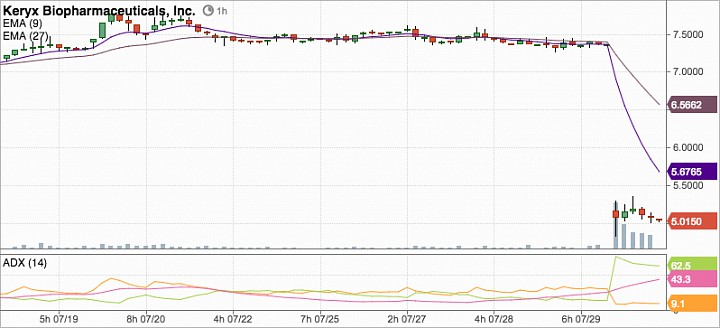 Consider accumulating.
Further reading or  just trade now.